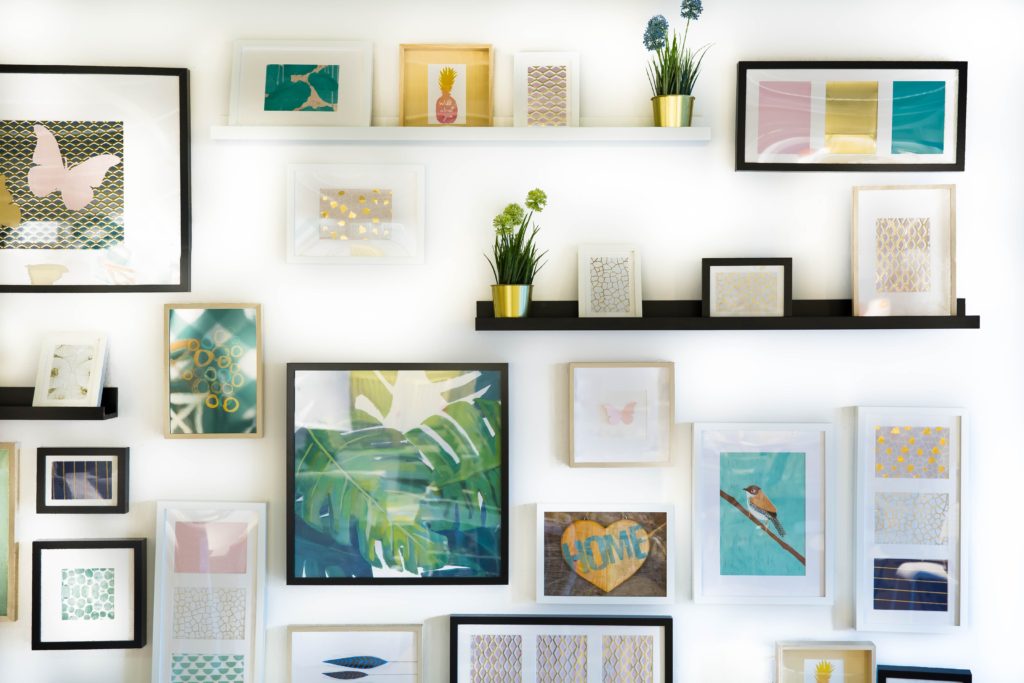 As a decorator, and the owner of a home consignment store, I was practically bursting one day, when I got a call from my daughter in Dallas. She, and her roommate had created a gallery wall in their apartment, and they wanted to share. Now I can't say that she got her math genes from me (great ones) or her stunning, 6'2″ height (her dad is 6'7″), but man was I proud. It made me think that maybe, just maybe, the decorating nut had not fallen too far from the tree! So how did she go about creating this beautiful gallery wall. And how can you do the same?
Creating a Gallery Wall Is As Easy As 1, 2, 3…Well, 8
A gallery wall can work with almost any style aesthetic. But creating a gallery wall, like my daughter did, can be daunting to a lot of people. Scary, that is, if you don't know the steps. And overwhelming if you haven't asked yourself a few salient questions (see below). So read on, and you too will be creating a beautiful gallery wall in your home very soon. Way to go, Libby!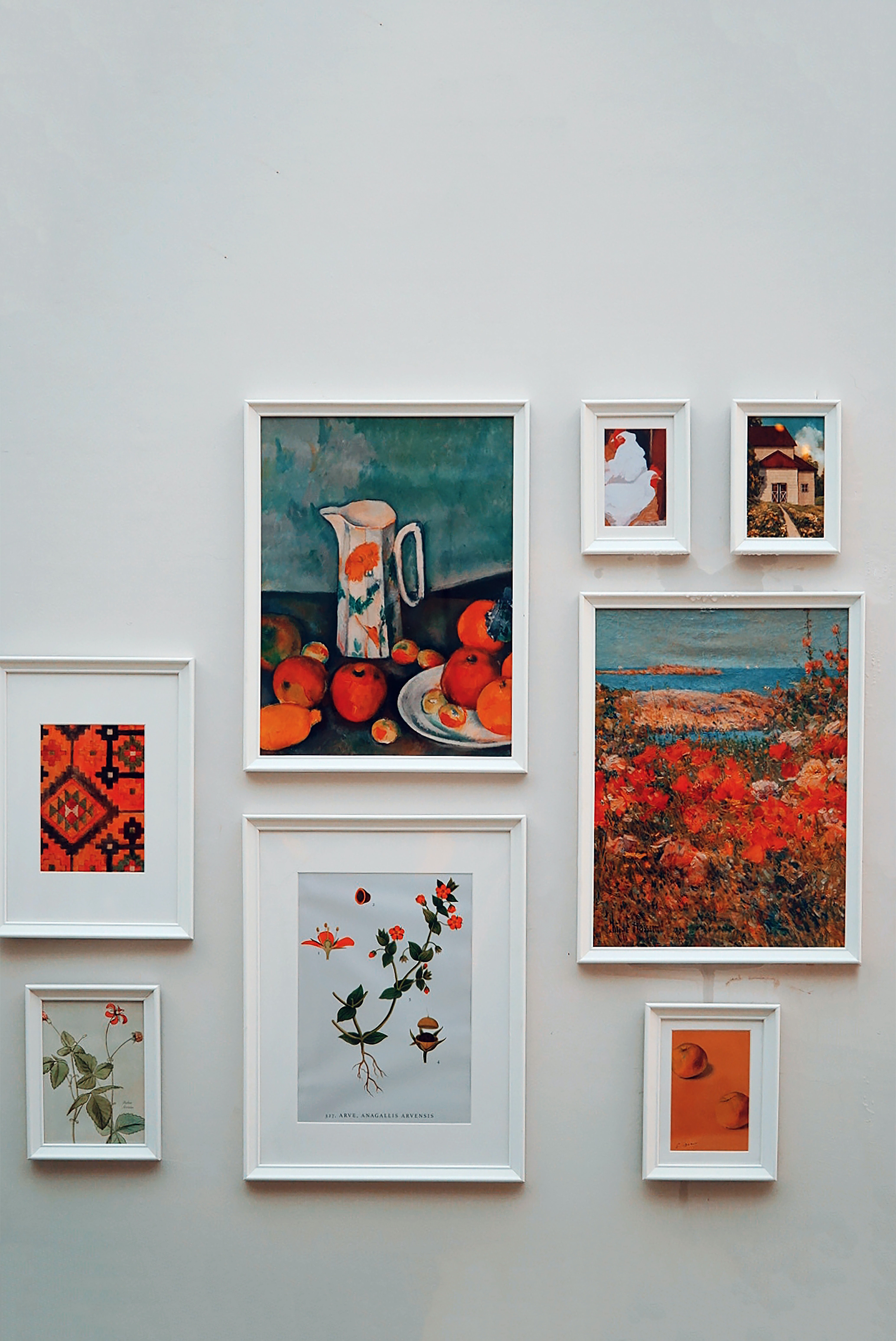 Creating A Gallery Wall in 8 Easy Steps
1. Gather the pieces you are considering for your gallery wall. They can be photos, art, found objects, architectural elements, mirrors, really anything.
2.Buy craft paper at the dollar store.
3.Buy painter's tape at the hardware or paint store.
4.Lay the pieces out on the floor to get a good idea how they relate to each other – do they go together? Are they pleasing to your eye?
5.Lay each piece on the craft paper and trace a round all the pieces you are considering and cut out the shapes.
6. Use the painter's tape to place the cut-out shapes on your wall. Measure if you like, but it's not essential because you have the exact sizes of all your pieces.
7.Play with the arrangement until you're happy. Painter's tape helps you not ruin the wall in the process.
8.When you're happy, place nails right through the paper. Hang each piece and pull the paper out from behind. Wallah! Beautiful gallery wall!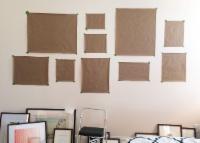 Creating a Gallery Wall? The Question Is: To Unify or Not To Unify
When creating a gallery wall, there's kind of a debate about whether all the frames have to be the same color. One camp says yes, the other no. I think it's a matter of what look you are trying to create. If the frames match or are in the same color family, the gallery wall has more order and structure. If the frames are not the same color, the look is more "artsy" and collected. So go with your own vibe for this one, but keep one word in mind: harmony. Frames don't have to match, but they definitely need to harmonize.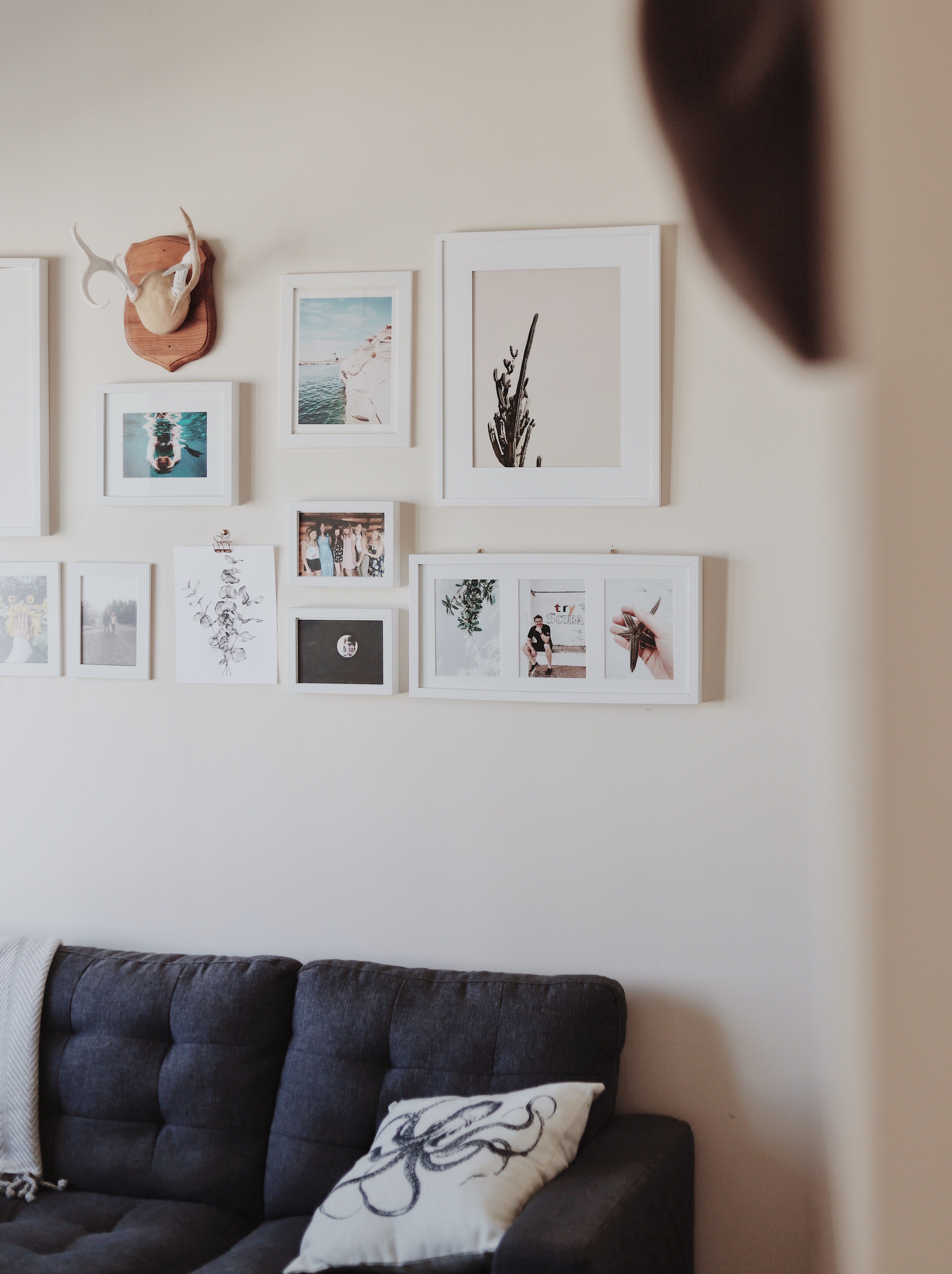 The Other Question Is: How Much Is Too Much?
CoCo Chanel is reported as having said, " "Before you leave the house, look in the mirror and take at least one thing off." This can also be good advice when creating a gallery wall. Sometimes too much is, well, too much. Instead of 10 pictures of each of your kids, how about 1 or two of the best ones? Or, with a mixed collection, use the pieces of art and the found objects that mean the most. There's no hard and fast rule about numbers here, but use your good sense, and remember, white space in between the pieces lets the eye rest and lets people take in what they are seeing.
If you're hungry for more on this topic, check out my previous blog: How to Create a Focal Point in a Room.
"When words become unclear, I shall focus with photographs. When images become inadequate, I shall be content with silence."–

Ansel Adams
Have a lovely Sunday, my friends. Marianne