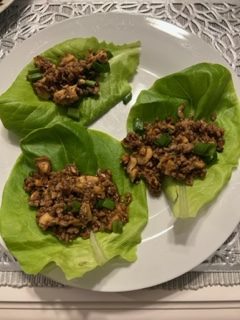 Looking for something easy and delicious for dinner? Trying to find something with a few, simple ingredients you can make for the fam in under 20 minutes? Well, look no further, because chicken (or turkey) lettuce wraps, a recipe I found on the website dinneratthezoo.com, could be just what you're looking for!
P.S. The site is fabulous. Dinner at The Zoo is written by a busy mom to three little girls, Sara, who writes in a wonderfully entertaining way and whose recipes are really delicious, so be sure to check it out. Also, don't forget to drop the link into your recipe box app (see my previous blog on recipe apps: Which Recipe Storage Apps Are Best ) so you'll be able to find it later. ENJOY!
This recipe calls for ground chicken and is modeled after the appetizer at P.F. Chang's. Bruce and I made it with ground turkey and found that, coupled with a side of avocado and tomato slices, dressed in oil, vinegar and a little S&P, it made a fabulous meal. I even took the leftovers to work the next day for my lunch (co-workers were a little jealous). There's one word for this recipe: YUM!
Ingredients:
2 teaspoons vegetable oil
1 pound ground chicken (or turkey)
5 ounces shiitake mushrooms stems discarded, caps finely diced (you can use white mushrooms, but the shiitake really step up the flavor)
1/2 cup onion finely diced
8 ounce can water chestnuts drained and finely diced (these have been hard to find in the market lately, but no stress, we omitted them when we couldn't get them and the recipe turned out just as well)
1 1/2 teaspoons minced garlic (or use jar garlic to save the step)
1 teaspoon minced ginger (also available in a jar if you're in a hurry)
salt and pepper to taste
5 tablespoons hoisin sauce
2 tablespoons soy sauce (I prefer low salt for this)
2 tablespoons rice vinegar
2 teaspoons sesame oil
1/3 cup sliced green onions
1 head butter lettuce leaves separated (we used the "Living Lettuce" that's available in most stores and it works great)
Instructions:
Heat the oil in a large pan over medium high heat. Add the ground chicken or turkey and season with salt and pepper to taste.
Cook the meat for 5-6 minutes, breaking it up until mostly cooked through.
Add the mushrooms and onion to the pan. Cook for 4-5 minutes or until vegetables are soft.
Stir in the water chestnuts, garlic and ginger. Cook for 1 more minute.
In a small bowl, whisk together the hoisin sauce, soy sauce, rice vinegar and sesame oil.
Pour the sauce over the ground chicken mixture and toss to coat evenly.
Sprinkle the green onions over the chicken mixture.
Spoon the chicken into the lettuce leaves and serve.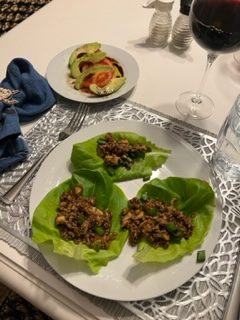 As always… stay safe out there my friends… and have fun!