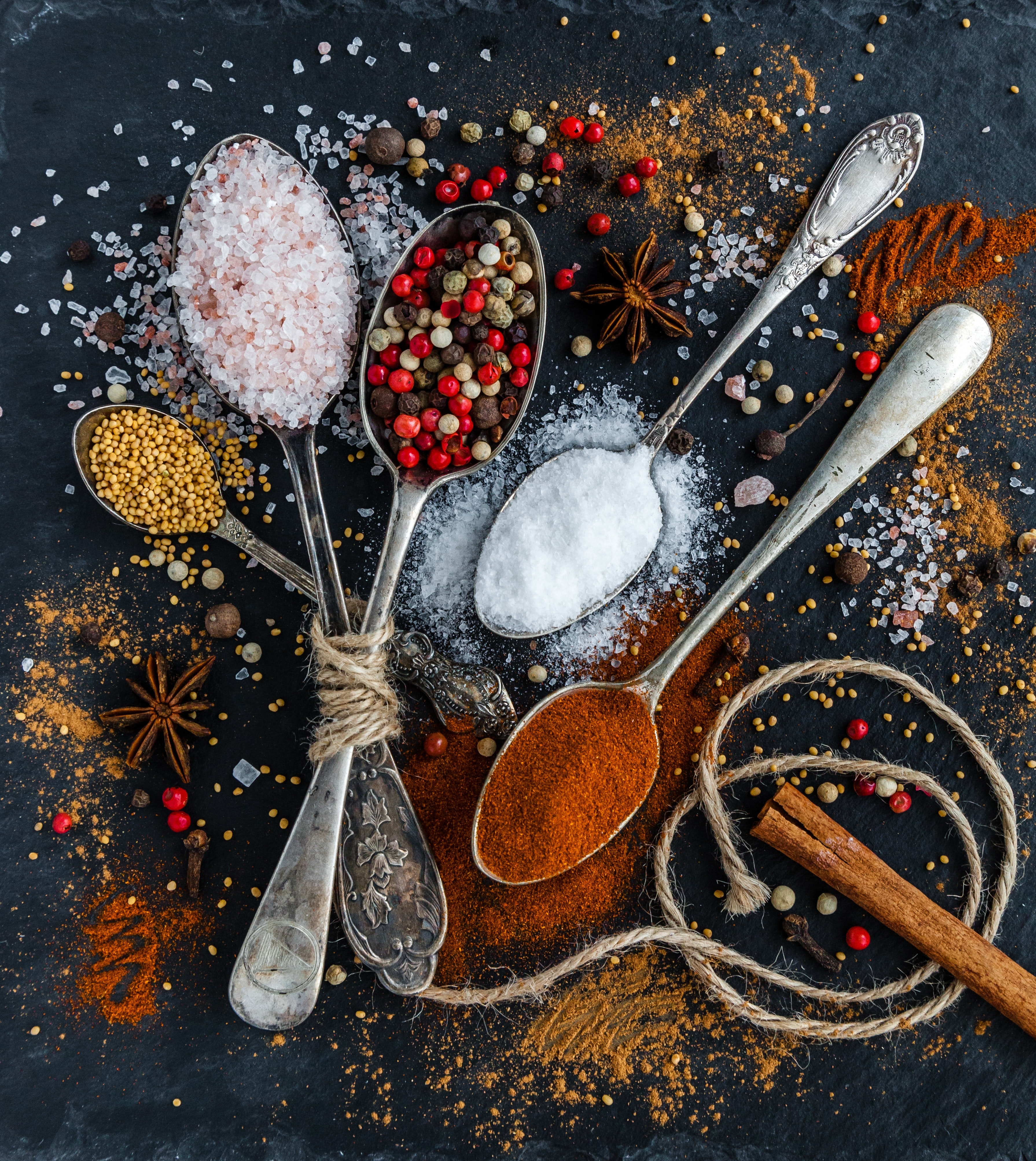 It's starting to get cooler, ladies and gentlemen, and I couldn't be happier, because it means that Fall is upon us. I will certainly deny this happiness with colder weather right about mid-winter, when there's 6 inches of snow on the ground. The sights, the smells, the sweaters. I'm in seasonal heaven! The Fall makes me want to snuggle in, light a scented candle, and get cooking. I know longer need to focus on grilling to keep the house cool; in fact I love the warmth and smells that the cooking brings to my whole home. So today, I share with you three of my tried-and-true heart warming Fall recipes. They will not only warm up your home, but they will warm your heart and your tummy, as well. Enjoy!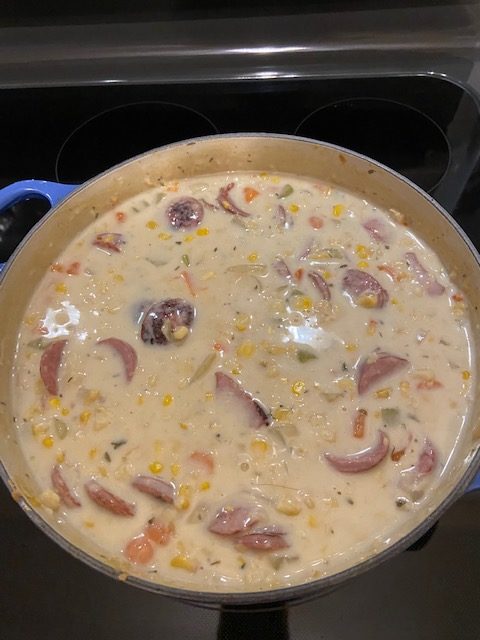 First of The Heart Warming Fall Recipes: Corn Chowder – Courtesy of Carlsbadcravings.com
Up first is a recipe that Bruce would eat raw, if I'd let him. We made this last Sunday and he was like a kid on Christmas. He wouldn't stay away from the pot that was simmering on the stove long enough to let the veggies cook. It was hysterical. There's nothing like corn chowder! It's filling. It's comfort food. And it's filled with a lot of great ingredients. Plus it it keeps for several days in the fridge, after cooking. Here's the link to the recipe: Best Corn Chowder Ever from Carlsbadcravings.com, which they refer to as "a creamy, hearty, satisfying soup," and I would definitely agree!
A Few Notes on The Recipe:
The recipe calls for 1lb of hot Italian sausage removed from the casings. We substitute smoked, Andouille sausage and slice it rather than removing it from the casings (which would be rather difficult).
We add a diced, red pepper to the veggies that are sautéed at the beginning of the recipe. It adds color and flavor.
The recipe link fails to tell you when to add the frozen corn. We add this right after the chicken broth.
Lastly, we omit the red pepper flakes. The sausage speaks quite loudly enough on its own.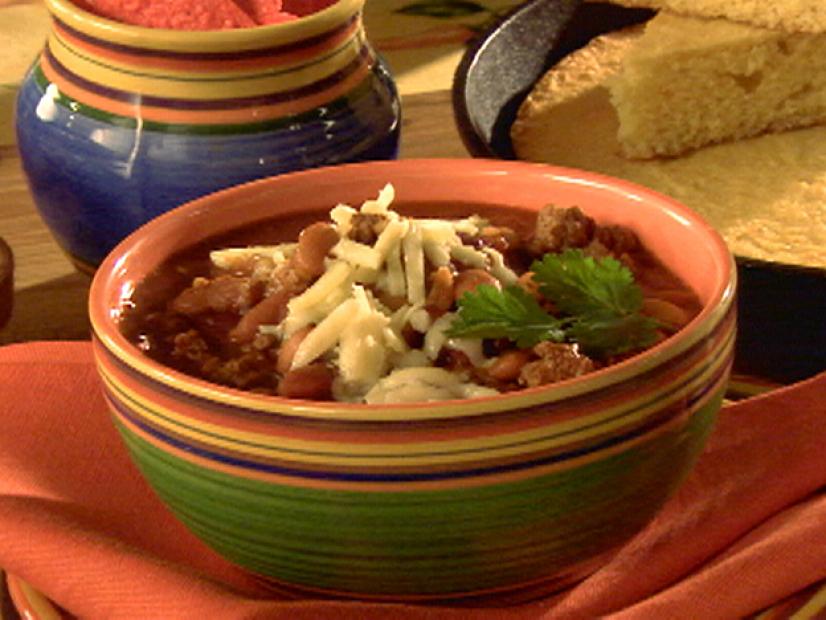 5 Bean Chili by Sandra Lee Is The Second of My A Heart Warming Fall Recipes
If you need to feed a crowd this Fall, you're going to love this 5 Bean Chili by Sandra Lee courtesy of Food Network. It is beyond easy, beyond hearty and makes way beyond the quantity of most chili recipes. Along with ground beef (which you can omit), it has two types of kidney beans, cannellini beans, butter beans AND pinto beans. It's as pretty as it is delicious.
A Few Notes on The Recipe:
As I said, this recipe makes a lot. After mixing together (step 2), you can divide the chili into two equal parts and freeze one half for later. Cook the remaining chili, in the slow-cooker, as directed.
As a slower cooker recipe, you can even make this for a week-night meal. I suggest doing all the prep the night before (there are a lot of cans to open) and refrigerate until morning. Then plug in and go!
And speaking of cans, I tend to stock up for this one when they have the big canned good sales at my local supermarket. The cost per serving can be under a dollar if you time this one right.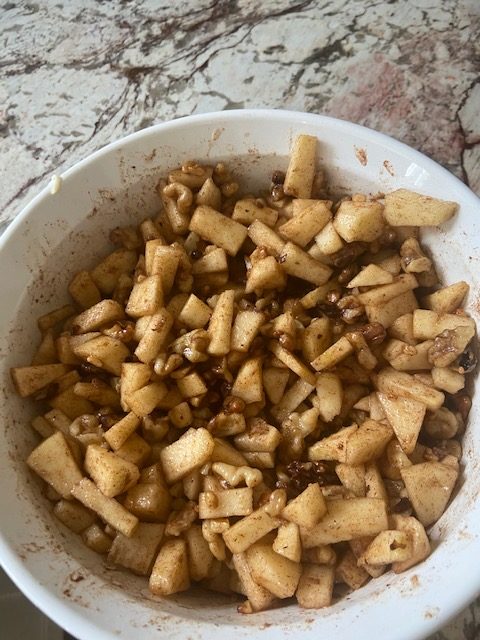 And Number Three: Charoset – Inspired by Julie
If you've never had Charoset, or don't know what it is, you are in for a wonderful treat. I first had Charoset at my friend, Julie's house when I was invited for Passover Seder. Charoset is a traditional fruit and nut mixture/paste that is served at Passover as a symbol of "the mortar used by the Israelite slaves when they laid the bricks for the Pharaoh's monuments," according to everydayhealth.com. Julie's Charoset is less of a paste and more of a chunky, uncooked applesauce – and it is DELICIOUS! I was telling Bruce about it a couple of years back (he'd never had it) and we both were intrigued. I have followed this Basic Charoset recipe ever since. It's quick. It's easy. And it's fantastic!
A Few Notes on The Recipe:
Honey Crisp apples work best for this recipe.
We do not use Manischewitz (sweet wine). We use a splash of cranberry juice. Works great and you can make Cosmopolitans with the cranberry juice too!
A key to rich flavor is browning the walnuts in some butter before adding them to the apples.
Traditionally, Charoset is a side-dish, much like applesauce. We use Charoset as a mix -n with Cinnamon or Vanilla yogurt for breakfast.
Charoset is also great as a topping on ice cream.
For more Fall ideas, check out my previous blogs: Tips For Creating a Fall Tablescape Centerpiece and Best Pumpkin Roll Recipe.
A Final Thought…
I hope you are enjoying the glories of Fall. And I hope that you get a chance to try one or more of these recipes. Have any wonderful ones of your own? I always love to try something new, so feel free to share. As always… be safe out there, my friends… and have fun!
Have a lovely day, my friends. Marianne