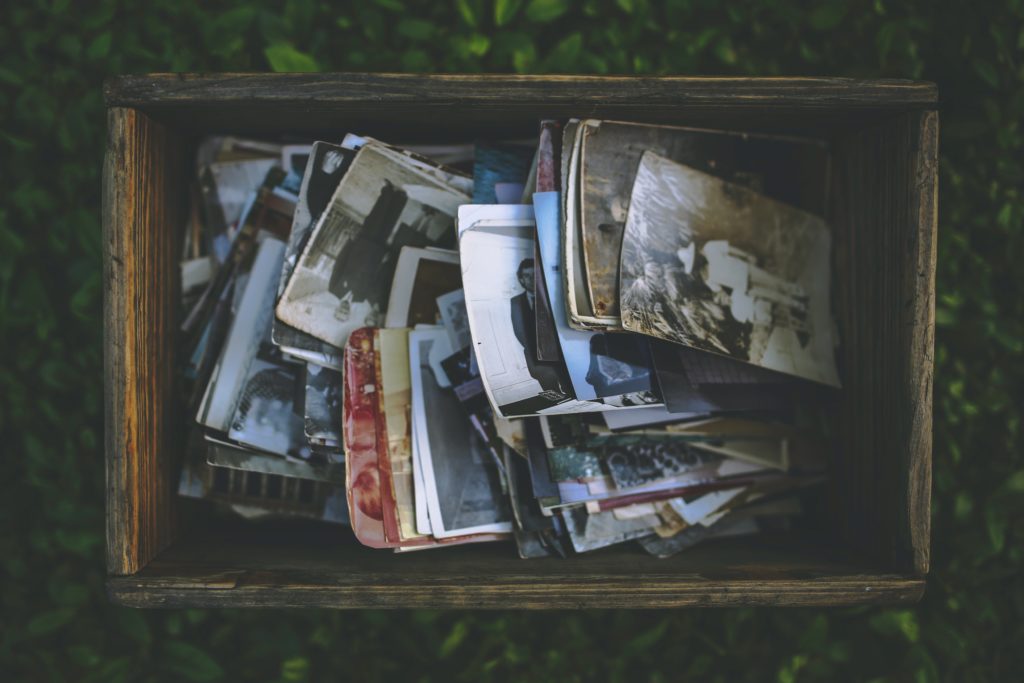 Marie Kondo, the famed organizing goddess, and I are not friends…yet, I always have to say yet! I truly admire the organization system she outlines in her book, The Japanese Art of Tidying, and I have referenced it more than once in my blogs including: 4 Secrets to Organizing and Decluttering Inspired by Marie Kondo. So I really hope that Marie (that's what I call her now that we're still not friends) won't be disappointed in me for bringing up someone else's ideas on decluttering, but here goes…
A few weeks back, I was scrolling through a blog that I started to follow regularly when Charlotte was moving to New York City called Apartment Therapy. As a subscriber to their regular blogs, they offered a free-to-me, 14-day blog series on decluttering. I hesitated, of course, because Marie and I go way back now… but I figured… what was the worst that could happen? I would just hate it all and Marie would continue to rein supreme. Well, that's what happened… at least mostly… but I did glean some noteworthy ideas that I will share with you today, and in a future blog; today about sentimental items, next time about the "6 week box" (more news on that one later). Sentimental items are always the hardest to get rid of for me – heck, Marie even keeps them till last in her system of decluttering – because she knows how hard it is for most of us to give these things up. I hem and I haw about old photos, love letters, even gifted and unworn jewelry or china passed on from those who have. The Apartment Therapy article sets forth 5 "rules," if you will, for downsizing this hardest-of-all category… so here is my take on them.
"We all have our time machines. Some take us back, they're called memories. Some take us forward, they're called dreams."

Jeremy Irons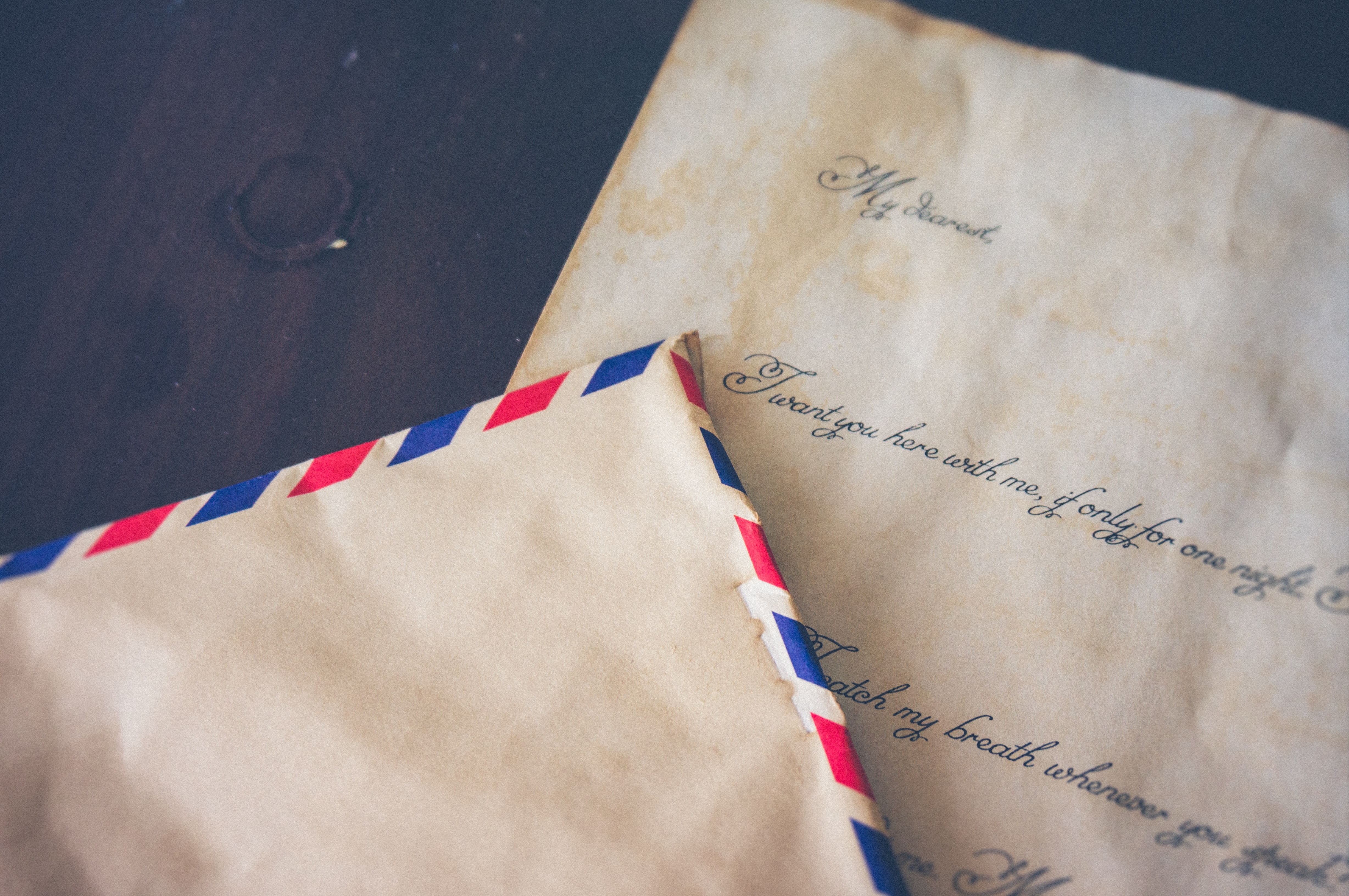 Items with Good Memories Are Keepers
There is so much negativity in the world. You can't escape it even if you decide to live as a troll under the bridge because there will just be bridge issues, water issues, you name it. So keeping sentimental items that make you feel negative is just not a good idea. I'm not talking about sad here but "unwelcome," as Apartment Therapy puts it. They say, "You'll know an unwelcome feeling when you feel it," and I agree. So it's time to get rid of those items from your sentimental stash (the break-up later from that jerk from college, the t-shirt from the concert that you went to with that same jerk, maybe even the wedding dress from your first, disastrous marriage). You get the idea… negative Nancy just shouldn't live with you anymore.
Big Collection? Pick Just a Few Treasures to Keep
I collect Fostoria, American Pattern glass. I love it's cube design and the fact that it goes with just about everything. I've collected it for as close to forever as I would care to admit. At one point I had one of just about everything they made. Then I got divorced and down-sized my large home to a small condo. I chose to keep about 1/4 of the collection. I kept my go-to pieces, like appetizer plates and water glasses. I also kept my prize possessions, both the round and the square cake stands, because of their value and due to the fact that my Mom had given me the square. I have lived with this skinnier collection for 3 years now, and I have not missed a single thing that I brought to the shop and sold on consignment. So, if you have a big collection of something, you can do it too. Pick your favorite 5-8 vases from that Fenton collection or 5 or 6 Department 56 Carolers, instead of the 100 you currently own. Or maybe it's Grammy's tea cups cluttering up your cabinets? Choose your favorite one, one for each of your daughters (or daughters-in-law) or nieces (or nephews) and pass the rest along. It's a great feeling…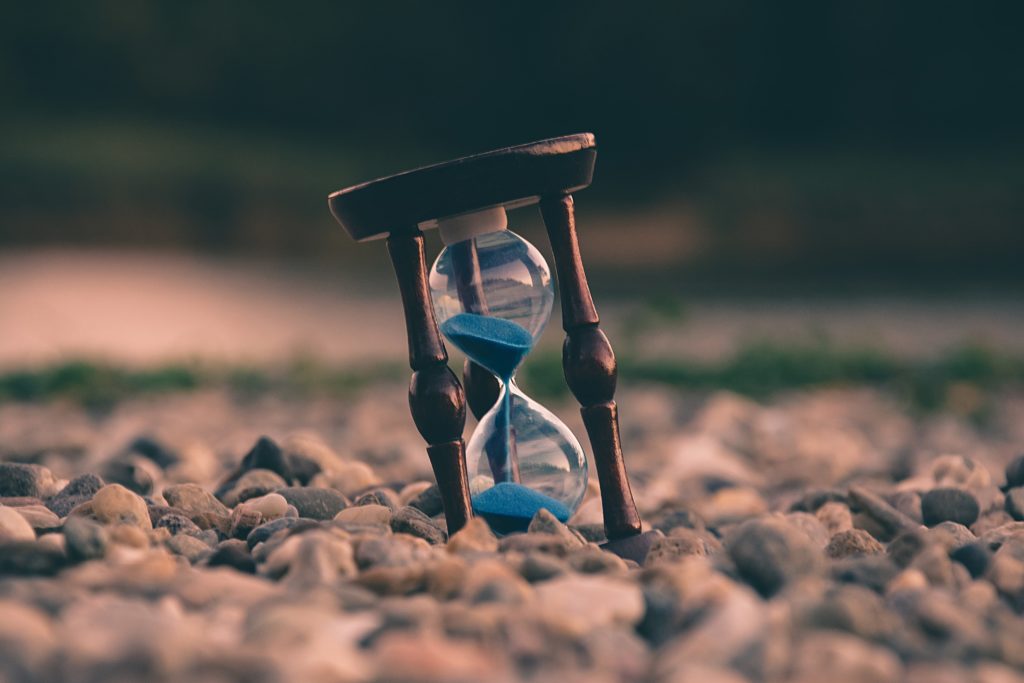 Create Time Capsules For Different Phases of Your Life
I thought this was a cool idea from Apartment Therapy. They suggest filling a shoe box (I think maybe something prettier, but that's just me) with sentimental items from each phase of your life (childhood, teen years, early adult, early married, etc.). Once the box is full, you're done, so chose wisely, like you're curating for a museum. You will skinny your sentimental items, like photos and newspaper articles, letters and the like, into as many boxes as you deem to have life phases. The rest… as they say… is history (pun definitely intended).
P.S. on On This Idea
My Mom is doing something a little different with her sentimental items: Mom is creating a box for each of us "kids." If it doesn't fit in the box, she's pitching it. And then she's passing the boxes on to us… it's a double decluttering… genius!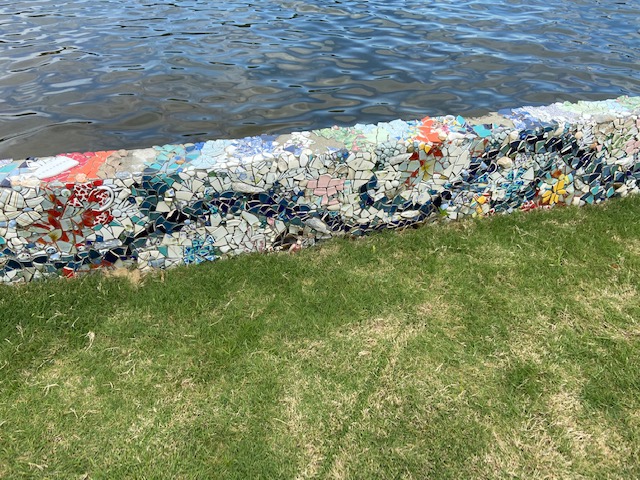 Keep Items That Can Be Transformed
I did not know Bruce's Grandma Mary, but I do have a picture of her in our home. From what I can tell, Mary was a rather stylish woman. The reason I think this is that the frame we have her picture in is bedazzled with some of Mary's clip-on earrings. It's such a cool way to show them off and immediately associates them with Grandma Mary. This is my take on this rule from Apartment Therapy: If a sentimental piece can be turned into something else, either beautiful or useful, it's a keeper. The chipped china plate from Aunt Sally can be used in the mosaic wall or on the mosaic tile in your backyard (my friend, and Bruce's sister-in-law, Peggy, did this beautifully – see wall above). A prom dress or t-shirt collection can become quilt squares. It's all up to your imagination. If your sentimental items can have a second life, and you can enjoy them more often in the process, they are definitely worth keeping.
Your Are Not The Family Archivist
Some people pass things along to you because they don't have the heart to throw them out (even though they should). These things often mean next-to-nothing to you; it's the giver whose heart strings they pull. You get them by default and you often feel "stuck" with them. I say, see rule number one above. Keep only the items that mean something to you personally. As for the rest, give them back to the original "gifter" (if possible), bring them to consignment, recycling them or trash them (if you must). They are not doing you, or your space, any good and The Smithsonian is not paying your mortgage.
A Final Thought…
I hope you have enjoyed my take on these rules from Apartment Therapy. Check out their bog through the link above, even if you aren't an apartment dweller. It's full of a lot of great design and lifestyle ideas you may enjoy. As always… stay safe out there, my friends… and have fun!
Now For Some Music Before We Go…
"My memories are inside me – they're not things or a place – I can take them anywhere."

Olivia Newton-John