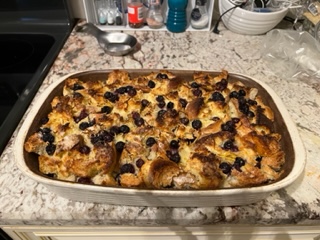 My girls came for brunch the other day and we were trying to figure out what to serve them. Bruce is of the mind that you can NEVER try out a recipe on "company," even if that company happens to be your daughters. So when we found this easy and delicious brunch food recipe for Blueberry French Toast Casserole online, we had to make it for dinner one night the week before to try it out. Bruce ate that thing for a week straight at breakfast and just when he had eaten it all, it was time to make it "for real" for the girls. Luckily , it was delicious the first time, and even better when we "tweaked it." I am sharing our version here with you today. The original recipe is by Cindy Rahe on simplyrecipes.com, which is very good, but we think we took it to the next level with a few changes. The best thing about this recipe, besides the taste, is that it can be made the day before (it's actually better that way). I love "make-aheads," as they allow you to save time on the day of your get-together and give you more time to spend with your company. I hope you will get a chance to make this one soon. Enjoy!
What You'll Need for Easy and Delicious Brunch Food: French Toast Blueberry Casserole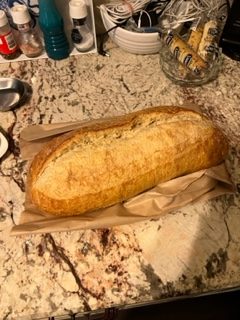 1 pound loaf "rustic bread," torn into 1-inch pieces (approx. 10 cups of cubes) – it's easiest to slice the bread with a good bread knife and then tear it into cubes. You can use anything that appeals to you. We used a sourdough-type loaf.
2 pints fresh blueberries
7 large eggs
2 cups milk (whole or 2 percent, 1% is just not rich enough, in my opinion)
1 cup heavy cream (or you can use 3 cups of 1/2 and 1/2 instead of the milk and cream)
1 teaspoon vanilla extract
8 tablespoons sugar, divided
4 tablespoons grated lemon zest – divided in two. (You need about two lemons to get this much, but it's worth it).
1/8 teaspoon kosher salt
2 tablespoons unsalted butter, diced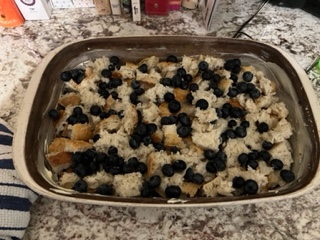 How To Make – Easy and Delicious Brunch Food Recipe: Blueberry French Toast Casserole
Butter a 9 x 13-inch baking dish (we used our Pampered Chef clay baker).
Place half of the bread cubes evenly in the pan.
Top the bread with 1 pint of the blueberries.
Place rest of bread in pan, then layer with second pint of blueberries.
Beat the eggs in a large, glass bowl.
Add milk, cream, vanilla, 6 tablespoons of the sugar, 1/2 the lemon zest and salt to the eggs.
Pour this over the bread cubes and press down gently to make sure the egg mixture is absorbed.
Cover and soak overnight in the refrigerator. (You can cook after 30 minutes of soaking, but it is not as good).
Take out of the fridge about 30 minutes before the start of cooking time to bring to room temperature.
Dot the casserole with the butter and sprinkle with remaining lemon zest and sugar.
Bake in a pre-heated, 350°F oven for 45 minutes, or until the eggs set and the top is golden brown. .
Let cool slightly before serving:
Serve with a dusting of powdered sugar over the top or a drizzle of maple syrup. (You can also just serve these on the side and let guests choose how to top. We looked EVERYWHERE for blueberry syrup, but couldn't find it. We think this would be great with it, as well).
Leftovers, as Bruce will attest, are good for about a week and they heat up well in the microwave.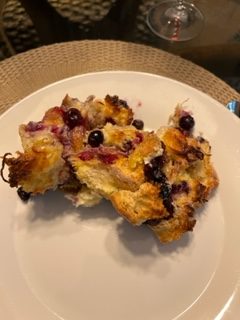 Want more great information and kitchen ideas? Check out my blog: Heroes of the Kitchen to learn all about essentials that every cook should have.
Have a lovely Sunday, my friends. Marianne