Sounds Gourmet But It's Oh-So-Easy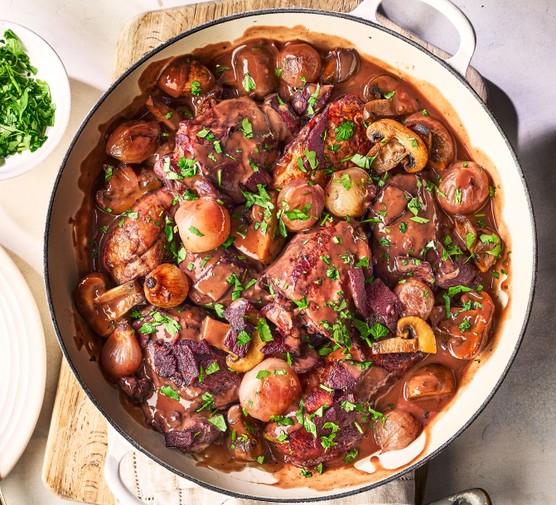 This past winter Bruce and I took a cooking class at Taste Buds Kitchen in East Greenwich, RI (link provided below). It was a Christmas gift to Bruce. Because he'd lived in France for several years, I wanted to learn something oh-so-French that we could cook together. So when Taste Buds offered an evening to learn Coq Au Vin (chicken in red wine) I signed us right up. Bruce was thrilled at the gift and the prospect of the class. Having had this dish several times myself, I assumed it would be a big lift cooking-wise. But that evening I was happy to discover that a dish, that is so wonderful, both in the way it sounds and the way it tastes, could be oh-so-easy to make. What follows is my take on this delicious recipe for coq au vin. You can complete it in less than an hour – start to finish. It's company worthy and makes your home smell oh-so-good whilst it cooks.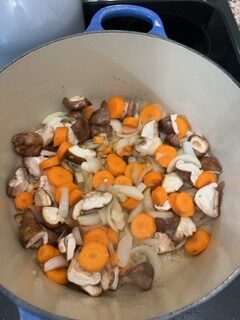 Delicious Recipe for Coq Au Vin – The Ingredients:
1 Tablespoon Olive oil
4 Chicken Thighs (skin on, boneless, if available, with bones if not)
Salt and Pepper
4 cloves Garlic (chopped)
8 oz. Shiitake Mushrooms (cleaned, stems removed, halved or quartered)
3 Carrots (sliced)
1 Medium Onion (diced)
2 Tablespoons Flour
1 Cup Dry Red Wine
3 Thyme Sprigs
1 Cup Chicken Stock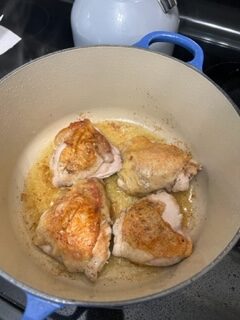 And Now – The Steps
Place olive oil in dutch oven and heat
Place chicken in pan, season with salt and pepper and brown for 3-5 minutes
Take chicken out of pan and place on a paper towel
Place garlic, onion, carrots and mushrooms in pan and cook for 5 mines until soft
Sprinkle veggies with flour and stir until no raw flour remains
Add wine and thyme and cook until wine is reduced by 1/3, stirring occasionally
Add chicken stock and stir to mix in
Place chicken back in the mixture and simmer for 35-40 minutes until chicken is cooked
Serve with mashed or Lyonnesse potatoes
Enjoy!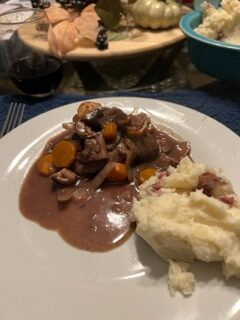 Insider Tips: Don't have a dutch oven? Consignment and thrift stores, like Consignments Ltd., are great places to score one. For other great recipes, check out my previous blogs: Best of The Season with These 3 Autumn Recipes and Three Easy Summer Recipes.
And in case you'd like to check out Taste Bugs Kitchen and take part in one of their cooking classes (which I highly recommend) check out: Taste Buds Kitchen in East Greenwich, RI online. They also offer gift certificates, which makes a great, holiday gift.
Have a lovely Sunday, my friends. Marianne