One of life's little luxuries is the outdoor shower. OK, so I have a confession to make: I have always wanted something in my home, that I have never had – and that something is an outdoor shower. I have stayed in homes and hotels with them, but never once, in the history of ever, have I had one. And I want one! Badly. To me, there is something so incredibly wonderful about showering under the open sky – and even more wonderful is all the sand that gets left out of the house, when an outdoor shower is in the picture. So, I have been researching and dreaming about one of these babies for a long while, and maybe, just maybe, the next time I move…
"There's no half-singing in the shower. You're either a rock star or an opera diva."

Josh Groban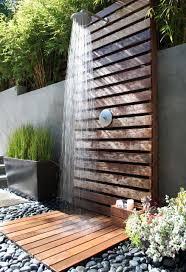 Open or Closed… That Is The Question…
If modesty is what you're after, or you have close-by neighbors, then the answer to this one is easy… closed… for sure. But for people, with private backyards or a lot of acreage, choosing an unenclosed , open option for an outdoor shower can yield a great result. Also, the site itself should play a part in determining whether you choose open or closed. If there's something great to look at… open. Not much going on behind the garage… closed.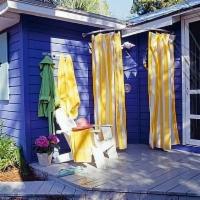 Materials Determine The Look, Maintenance and Expense of An Outdoor Shower
If you've decided that the enclosed shower is the way to go, there are so many options for your enclosure, including:
Stone: This is probably going to yield absolutely beautiful results, but stonework outdoor showers will probably also be the most expensive option. Durability is high and stone does not need a lot of maintenance once it's installed.
Wood: Many people choose to make their shower surrounds out of pressure treated wood, or wood that weathers well (think ship building woods) like teak or mahogany. Some of these options will come with higher maintenance, because they will need to be re-sealed or re-stained to maintain their durability.
PVC Fencing: Vinyl fencing is sized right for making shower enclosures. It is also durable and easy to clean. This is a relatively cost-conscious option for the outdoor shower.
Curtains: This is, by far, the least expensive way to surround your outdoor shower. You can hang piping and use regular shower curtains and clips. Upkeep is higher, as the curtains will need to be laundered regularly (mold) and replaced occasionally (fading).
And then There's The Simple, Freestanding Shower..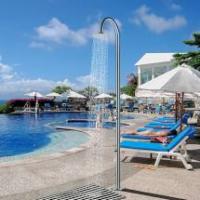 One of life's little luxuries is the outdoor shower. This option is readily available at places like Amazon and they can be really great if you have a pool. Most of them set up anywhere that there is connection to a garden hose. This option is neither complicated nor expensive. It is also portable, so it can be taken with you when you move.
And in the vain of true disclosure, I did have one of these once, but I don't count it as having fulfilled my dream of an outdoor shower because of my very big problem with most of these units (with the exception of the solar ones now available) , they use cold water only…Brrrr.
Outdoor Showers… Another Opportunity To Accessorize… Yeah!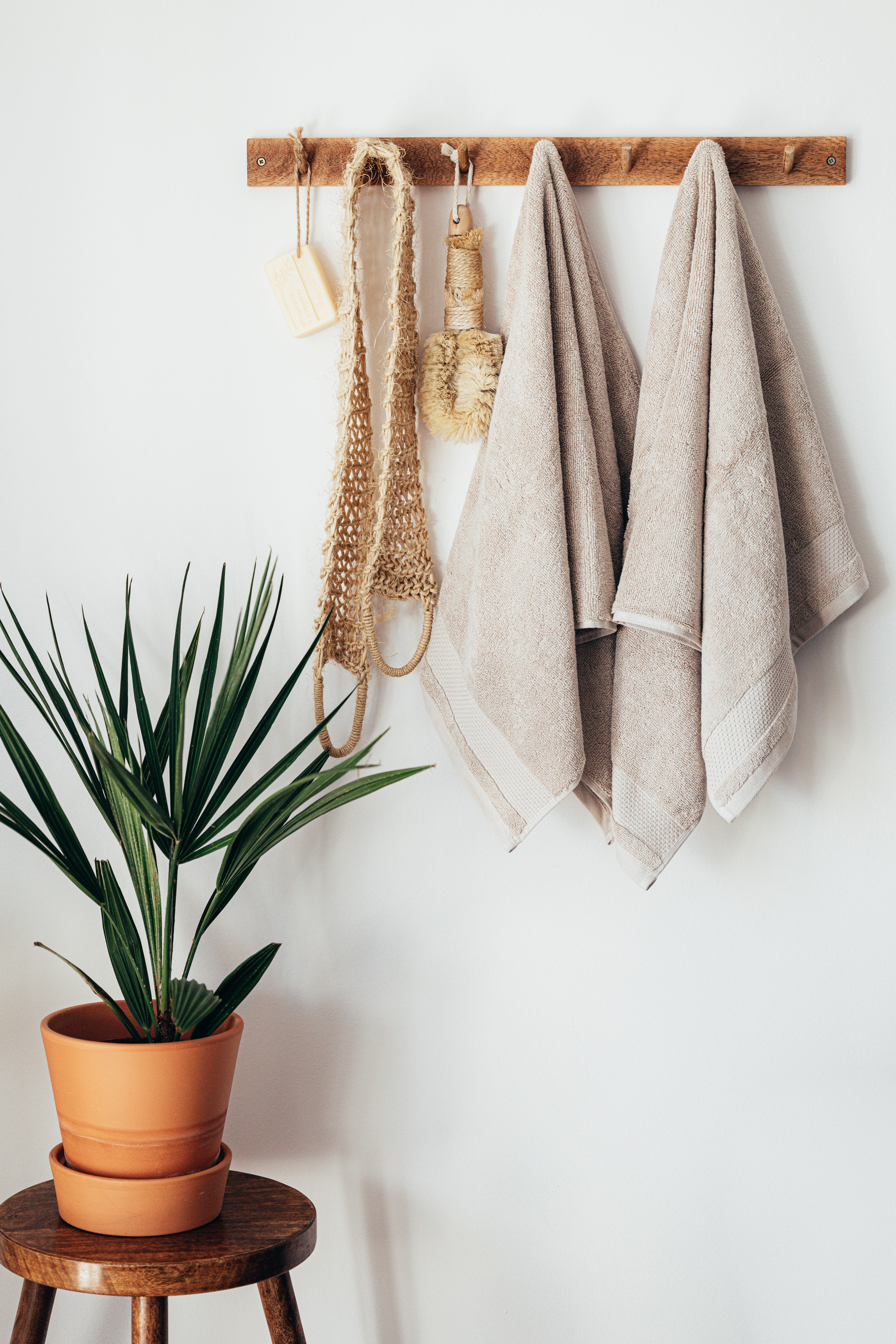 If you've been following me for awhile, you already know that I LOVE a good opportunity to accessorize pretty much anything. So the outdoor shower is no exception. You can make yours as luxurious or as basic as you like. It can even have its own theme (but please, not its own Facebook page!). Some of the things to lovingly add to your outdoor shower include:
Towels: Maybe bright and bold beach towels in a waterproof hamper nearby the shower? Or basic, classic white for easy cleaning. Towels should compliment the color of your house or the area where your shower is located.
Hooks: Unless you are one of my children, who always thought that the proper place for a wet towel was the floor, you'll want a place where showerers can hang their wet towels, or their bathing suits or clothing. There are lots of great, weather-proof options out there – sea-theme ones, being some of my favorites.
Mirror: Just like in the bathroom, you want to be able to check your look. Be sure to choose an option that is suitable for outside.
Toiletry Caddy: A place for shampoo and shower gel is always appreciated.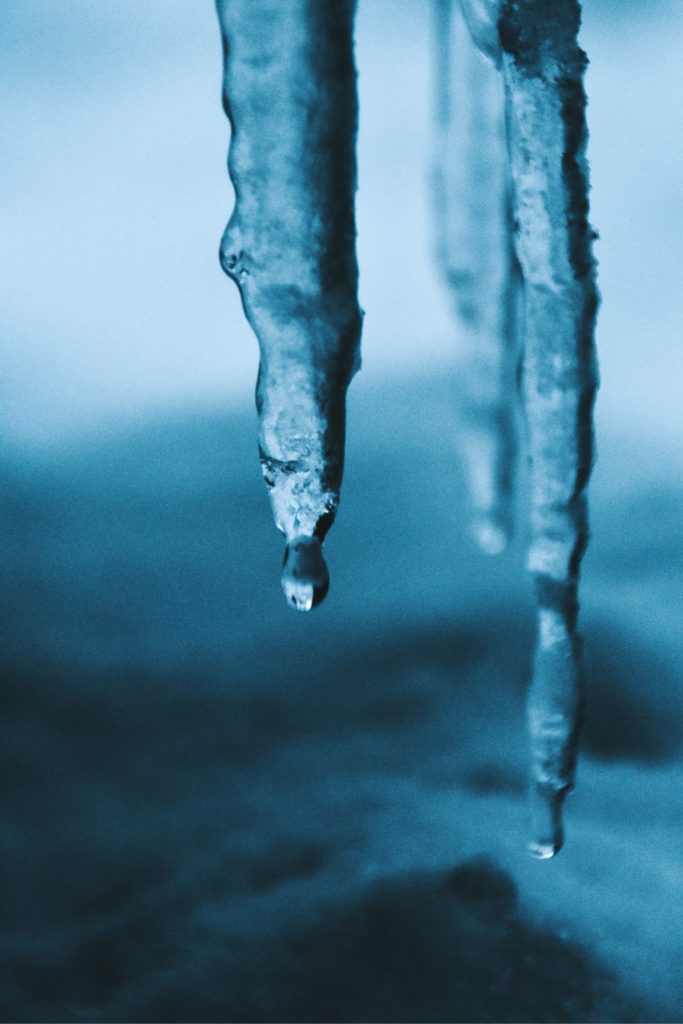 Frozen Pipes, Thieves and Other Words of Warning
One of life's little luxuries is an outdoor shower. Although I can't think of many things I'd love to have more in my home than an outdoor shower, they are not without some problems . First and foremost, the outdoor shower is probably NOT a DIY project. When working with plumbing, it's best to leave it to the professionals. Also, unless you live in a hot climate, you need to make sure you winterize these showers, otherwise you will be having a not-so-nice conversation with your insurance agent. And finally, although it's a rarity, thieves have been known to steal the copper pipes out outdoor showers – the nasty buggers.
For more on the topic, check out my blog: Creating an Outdoor Paradise on a Budget.
"Singing in the shower is all fun and games, until you get shampoo in your mouth, then it becomes a soap opera."

Anonymous
Have a lovely Sunday, my friends. Marianne