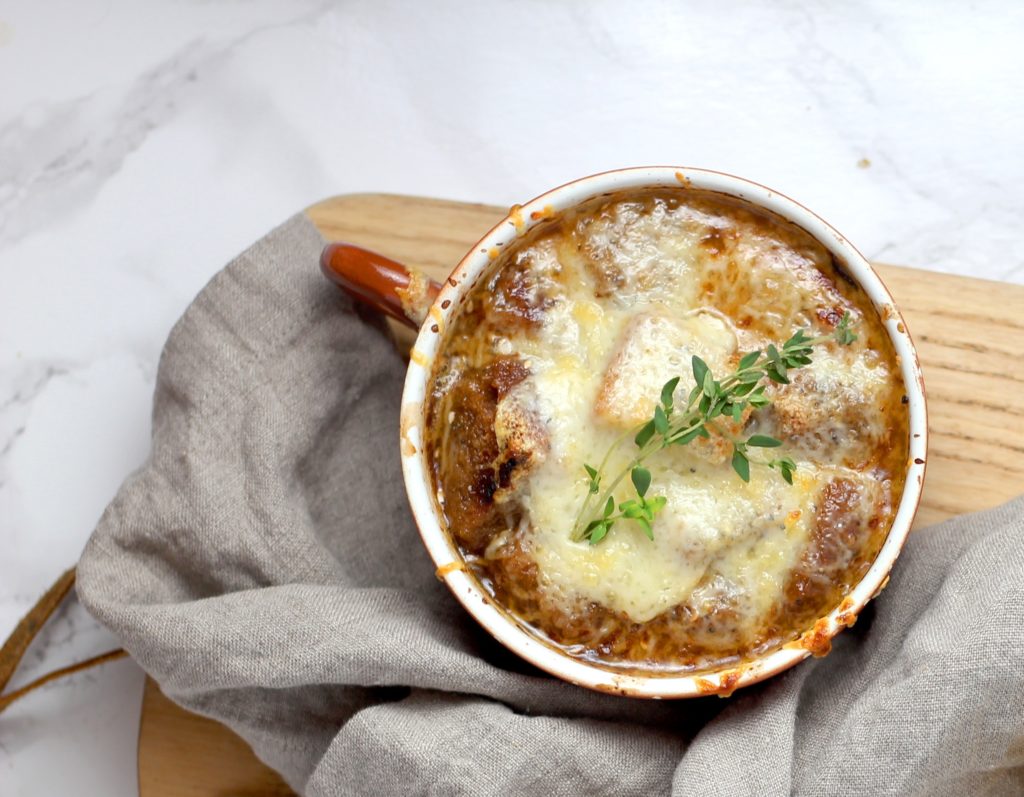 I've always loved the Richard Bach quote from Jonathan Livingston Seagull, "If you love something, set it free; if it comes backs it's yours, if it doesn't, it never was." In the case of French onion soup I would alter this quote to say, "If you love someone, make them French onion soup. If they love it, they are yours forever. If they don't, you need new friends." Of course I'm just kidding about ditching your loved-ones if they don't like this soup recipe, or French onion soup in general. My point here is that this recipe is truly an act of love – from the amount of tears you will shed cutting the onions to the amount of time you must devote to creating this masterpiece of a recipe. I'm sharing a recipe that I have adapted from one I found on The Brown-Eyed Baker. Even with her in-oven, time-saving tricks, it will still take you about 5 hours of total time and a lot of stirring. In the end, however, you will win the heart (or seal the love) of whomever you make this for. It's an act of love that's well worth your time…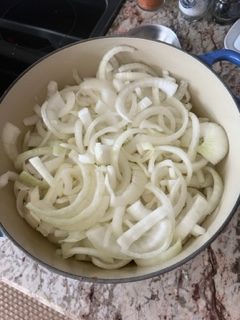 Ingredients:
The Soup:
3 tablespoons unsalted butter, divided
6 large yellow onions, about 4 pounds, sliced
Table salt
2 cups water, for deglazing
½ cup – 3/4 cup dry sherry, dry white wine or dry Vermouth
4 cups chicken broth (You can make from bouillon)
2 cups beef broth (You can make from bouillon)
6 sprigs fresh thyme, tied with kitchen twine (or thread if you don't have twine)
1 bay leaf
Ground black pepper
Fresh parsley for garnish (optional)
The Topper:
1 small baguette, cut into ½-inch thick slices
8 ounces Gruyere cheese (thinly sliced)
Instructions:
Notes: Super important to have a 7 quart or larger Dutch oven for this recipe. I love LeCreuset. It is the perfect pan for this perfect dish. You will also need 4-5 individual, oven-proof crocks for serving.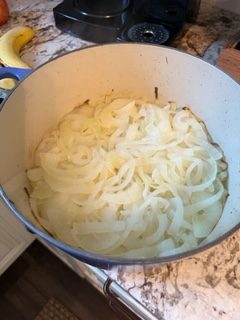 The Soup:
1. Preheat oven to 400 degrees
2. Generously spray inside of Dutch oven with nonstick cooking spray.
3. Place butter pieces in the bottom of the pot.
3. Add sliced onions and 1 teaspoon salt. Toss with your hands to coat onions with salt.
4. Cook, covered, 1 hour (onions will be moist and slightly reduced in volume).
5. CAREFULLY take pot out of oven and stir onions, scraping bottom and sides of pot.
6. Return pot to oven with lid slightly ajar and continue to cook until onions are very soft and golden brown, 1½ to 1¾ hours longer, stirring onions and scraping bottom and sides of pot after 1 hour.
By this point your house smells so great that the stirring and de-glazing steps you are going to do next are all going to be worth it!
7. Take pot out of oven and place on cooktop over medium-high heat. It's hot, so be careful!
8. Cook onions, stirring frequently and scraping bottom and sides of pot, until liquid evaporates and onions brown, 15 to 20 minutes, reducing heat to medium if onions are browning too quickly.
9. Continue to cook, stirring frequently, until pot bottom is coated with dark crust, 6 to 8 minutes, adjusting heat if necessary. (Scrape any crust that collects on spoon back into onions).
10. Stir in ¼ cup water, scraping pot bottom to loosen crust, and cook until water evaporates and pot bottom has formed another dark crust, 6 to 8 minutes. Repeat process of deglazing 3-4 more times using a little more water until you have used up all the water and onions are dark brown.
11. Stir in sherry and cook, stirring frequently, until sherry evaporates, about 5 minutes.
12. Stir in broths, thyme, bay leaf, and ½ teaspoon salt, scraping up any final bits of browned crust on bottom and sides of pot.
13. Increase heat to high and bring to boil. Reduce heat to low, cover, and simmer 30 minutes.
14. Remove and discard herbs, then season with salt and pepper (if necessary, but I don't usually find that it needs it).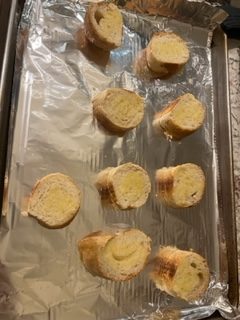 The Topper:
Butter both sides of the bread slices and toast both sides of the bread by placing them on a cookie sheet under the broiler until golden brown. Watch closely, as toast can go from untoasted to burnt in a hurry.
Remove toast from oven.
Ladle soup into individual, oven-proof crocks.
Place toast on top of soup in the crocks and place cheese on top of toast. The cheese can overlap the edge of the crocks, if you like.
Now, carefully put each crock individually in the microwave on high for 30 seconds to 1 minute to start the cheese melting process.
Then, carefully put crocks back under broiler until cheese is browned and fully melted.
Garnish with parsley sprigs.
ENJOY!
A Final Thought…
I hope you get a chance to try this wonderful recipe. Kudos to The Brown-Eyed Baker for getting me started and for all her other wonderful recipes. If I could only share the aroma of this recipe, through the blog…. hmmm… maybe that's my next venture…LOL.