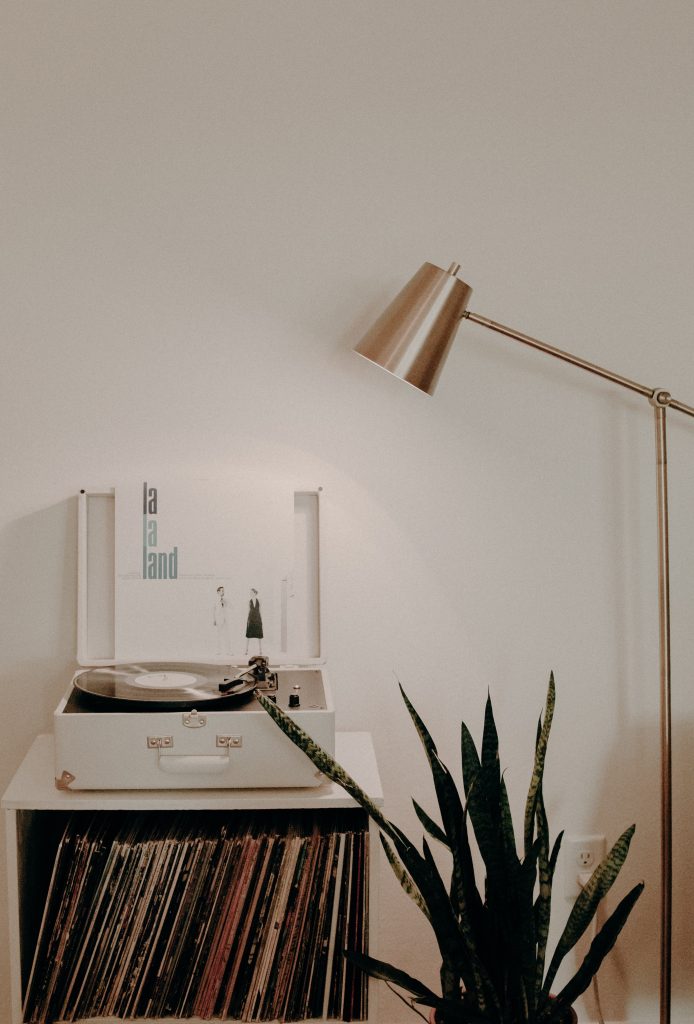 According to both GoodHousekeeping.com and Architectural Digest, one of the biggest design trends for 2023 is the listening room. Whether it a space for creating music or listening to vinyl, these rooms are popping up in homes all over the country. Many of these spaces are designer-created and very expensive. However, you can hop on this band wagon and bebop your way to a listening room with a few easy tricks and thrift finds. (Puns are all definitely intended, by-the-way).
"Vinyl sales are at a 30-year high, and designers, furniture makers, and audio specialists are fielding substantial requests from those seeking help getting high on music at home."

Architectural Digest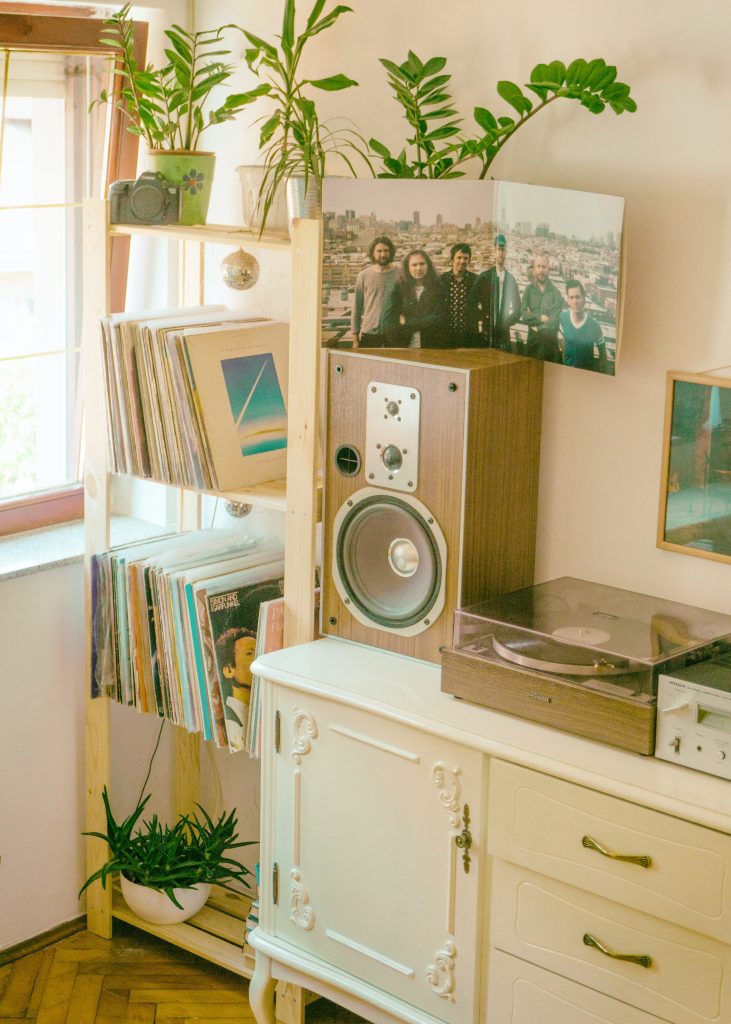 Essentially, a listening room is a dedicated space for music. It's a space where you go to veg solo. Or it can be a space where you gather with friends and family for an hours-long jam session. If you have a spare room hanging around, just waiting to be used, great. If not, carve out a space within a room, convert part of your garage/basement or even use an over-sized closet. Deciding where the listening room goes is half the battle. Once that's decided, follow these steps to incorporate this design trend and create a lovely new listening room.
Key Elements of The Design Trend – The Listening Room
Define the Space
If your listening room isn't an entirely separate space, you may want to partition it off in some way. Often, this can be done with bookcases or other tall furniture pieces. Find these at second-hand and consignment stores. Usually, these shops have a lot to choose from. Look for a folding screen (room divider) that will serve this purpose, as well. Of course, these pieces won't buffer the sound like well-insulated walls will, but they will definitely help to define the listening space.
For more ideas on creating a room-within-a-room, check out: Five Easy Ways to Achieve The Dual-Purpose Room.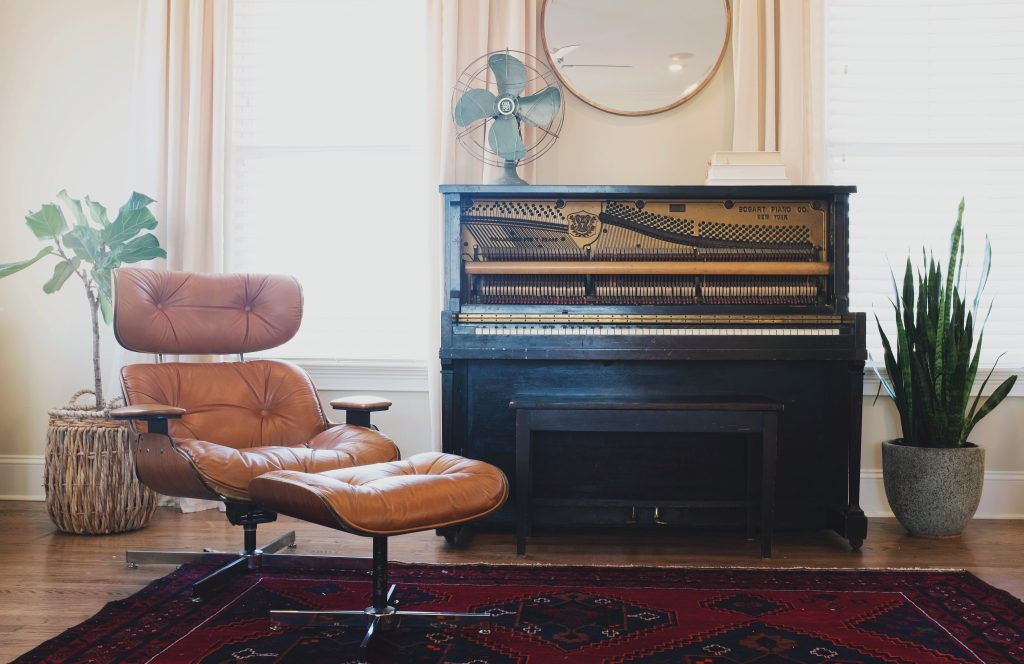 Add Comfortable Furniture
Your listening room goal may be to have a place to play your vintage Springsteen. Or perhaps it's where you want to entertain your friends with your 3-person gig band. Either way, you'll want to have some comfortable furniture in the space. A cozy couch is the first thing that comes to mind. Also consider, however, a few upholstered chairs around a central ottoman to get your chill on. A chaise lounge makes a great spot in a listening room to kick off your shoes and throw on the headphones. Thrift, consignment and second-hand spots are always good resource for these pieces. Add to the decor of the room with pillows, throws and music-inspired artwork often found at these stores as well.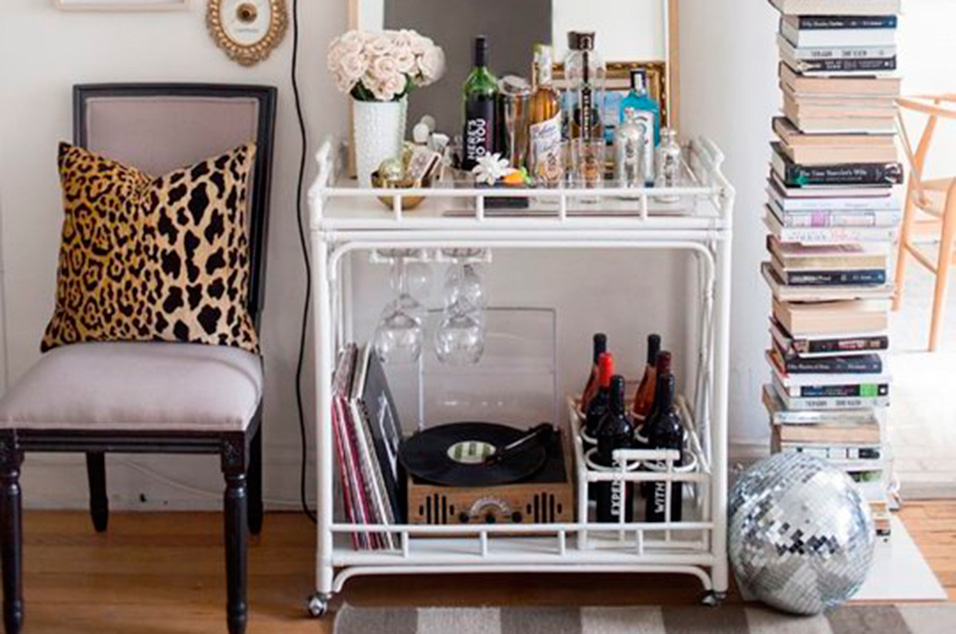 Create Storage For Vinyl or Instruments
A big benefit of a dedicated listening room or space is that it gives a home to your vinyl collection or your instruments. Bookcases are a great way to store and organize vinyl. Dedicated media cabinets (a consignment best buy) can hold a lot of records. Magazine racks, bar carts and old pallets can all also hold vinyl and look cool doing so. Musical instruments (except maybe a piano) can be stored on wall mounted racks (available at most large retail stores, music stores and Amazon). This makes them look like an art-installation when not in use. Consignment stores also sell music stands, old stereos and vinyl, so you really can't go wrong including them in your treasure hunting for your new listening room.
I hope you've enjoyed the blog today. For even more on this trend, check out Architectural Digest's story, Why Listening Rooms Are The Next Big Thing in Interiors. Have a great day, my friends.