Easy recipe for leftover vegetables. If you have a wrought iron pan, some leftover veggies and 1/2 a dozen eggs lying around, you, my friend, have dinner tonight or brunch tomorrow. Frittatas are an oh-so-easy and nutritious meal that you can whip up in minutes. They are great for brunch, lunch or dinner and are lovely with a crusty bread on the side (and perhaps a good Chardonnay). They take minutes and are filling as well as beautiful. Hope that you enjoy!
What You'll Need:
6 large eggs
1/3 cup heavy cream (or 1/2 and 1/2 in a pinch)
1/2 tsp salt (adjust to taste)
1 cup grated mozzarella or cheddar cheese
Approximately 1 cup of cut up left-over vegetables (like broccoli, green beans, carrots, peas) or fresh vegetables cut up (like tomatoes, green peppers, mushrooms, carrots, broccoli) – you get the idea.
1 tablespoon butter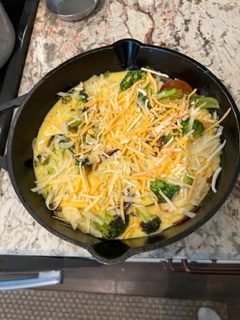 Easy Recipe for Leftover Vegetables. How To Make It:
Preheat the oven to 400F. Whisk eggs, heavy cream and salt until you get a smooth and even texture. Set aside.
In the cast iron pan, melt butter and sauté the cut up vegetables to brown slightly (fresh will take a little longer, left-overs less-so).
Pour the egg mixture over the vegetables. Sprinkle the cheese on top. Use a fork to distribute the cheese around a little to incorporate it into the eggs.
Bake for 15 to 17 minutes, or until the edges are set and the top is lightly browned.
Slice into pie-shaped pieces and ENJOY!