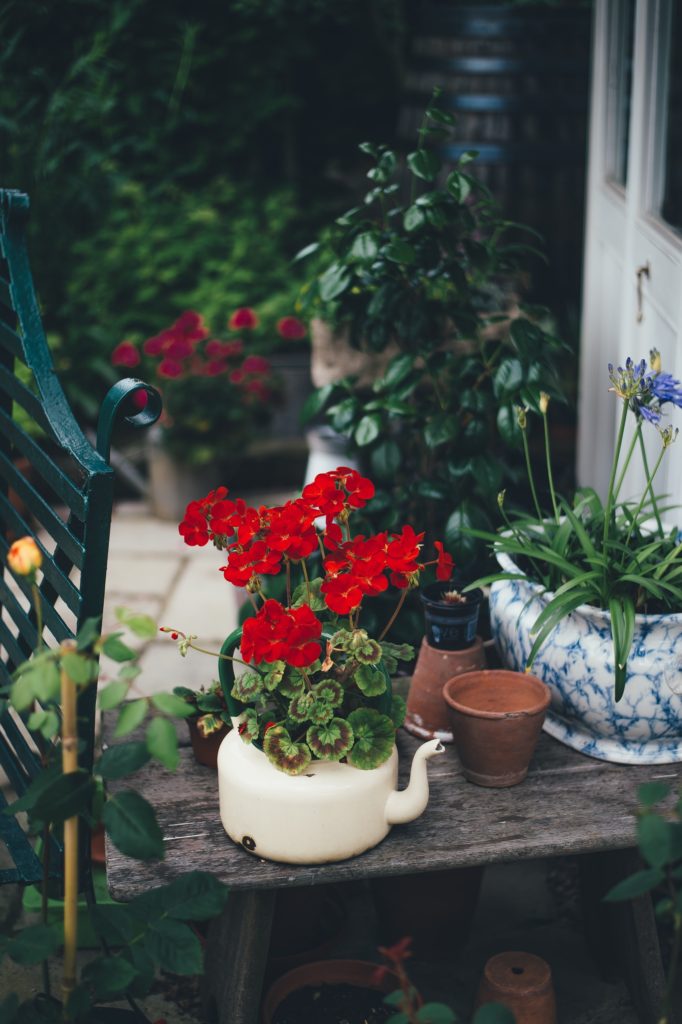 Spring has sprung! Our patios and gardens are filling up with flowers! Isn't it wonderful? My backyard beds are showing the promise of a lot of hard work and Bruce and I couldn't be happier. So in that vein, I thought I'd share a few tricks to make this digging in the soil and making things grow an even more enjoyable endeavor.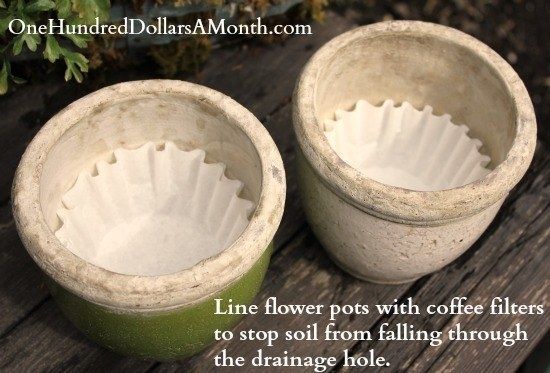 Coffee Filters – Not Just For Cappuccino
First up – coffee filters. Coffee filters (or used dryer sheets) are the perfect thing to cover the drain holes in your outdoor pots before you fill them with soil. The filters will allow the water to flow through the drainage hole, but they will keep all the soil in place and off your deck, patio or front steps.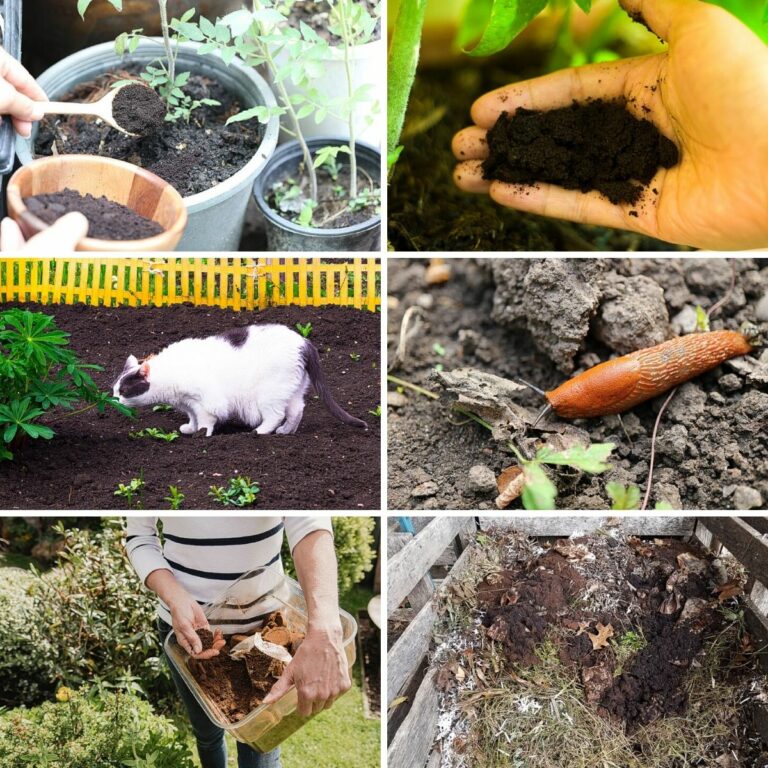 And Speaking of Coffee _ Saves Those Grounds
I LOVE my morning coffee. It's one of the reasons I retained some of my sanity for the last 58 years. Coffee grounds used to just get pitched at my house and then Bruce re-introduced me to using them in the garden (My grandpa, Joe used to do this ages ago). Coffee grounds are great for the garden in so many ways. You can use grounds in your compost, fertilizer, or mulch. You can also sprinkle them around your plants and your garden edge. Grounds will enrich the soil (and thereby the plant) and will also keep away cats and garden pests like snails and slugs.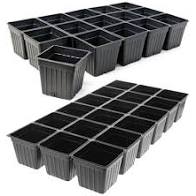 Plastic Starter Pots – Don't Throw Them Out
When you go to the garden center and buy all those annuals, a lot of times they come in starter pots like the ones shown above. Often we end up throwing these out or recycling them once they're emptied. But thanks to an idea from my dear friend, Katie, I am no longer doing this, and maybe you won't be either? Try crunching these babies up into the bottom of your containers. It's a great way to provide drainage for your plants and at the same time save on potting soil. LOVE IT! By-the-way: Plastic water bottles will work in this way too and when the season's over, you can always recycle them.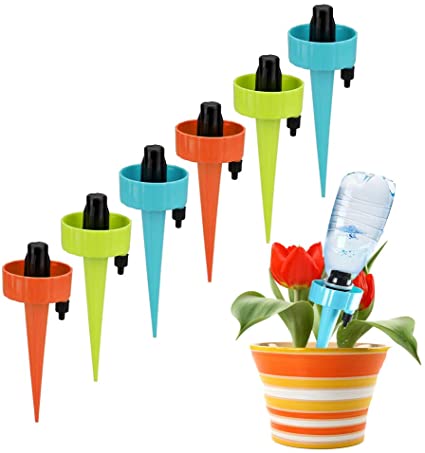 Water Bottle Irrigation – Never Have Dried Out Pots Again
This idea makes use of the ever-present plastic water bottles in an ingenious new way and it will make it so your potted plants will make it through those times when you "forget" to water. Available on places like Amazon (link:Water Bottle Drip Irrigators), they simply screw on to the tops of the used water bottles after you've refilled it from the tap and then you insert it in the soil. You can also use them in the garden next to water-needy plants. You can adjust the drip rate with a little valve that is on the side of the unit. These are great, especially if you're traveling or if you're like me and "forget" to water some days.
Easy, DIY, Plant Markers – You'll Thank Me Next Spring
I live in a condo. I love it for a lot of reasons. One thing I'm not so found of, however, is that someone other than me does the spring clean-up in my garden beds. This year these well-meaning guys came in and accidently "weeded out" half of my perennials. Bruce and I were devastated. These plants represented a whole year of devoted gardening and and they were just gone. The gardeners didn't know that these emerging plants were not weeds (even though many of them did have the little plastic markers that came with them from the nursery). The landscaper did replace them and this year I'm taking my own advice and creating OBVIOUS, DIY, plant markers for each and every one of them. I'm using the wine cork idea above, which probably says a lot about my love of wine, but I think it also looks pretty easy and I will make them as we go through the bottles (LOL). You can also make them out of paint stirrer sticks or clothespins. Pinterest is full of cute ideas, if you're into it try it at (link: DIY Plant Markers).
One Final Thought…
Each of only gets so many growing seasons. None of us knows the number. I hope that you have many, many more, but I pray that you enjoy THIS growing season in all its glory and majesty. Stay safe, my friends… and have fun out there.