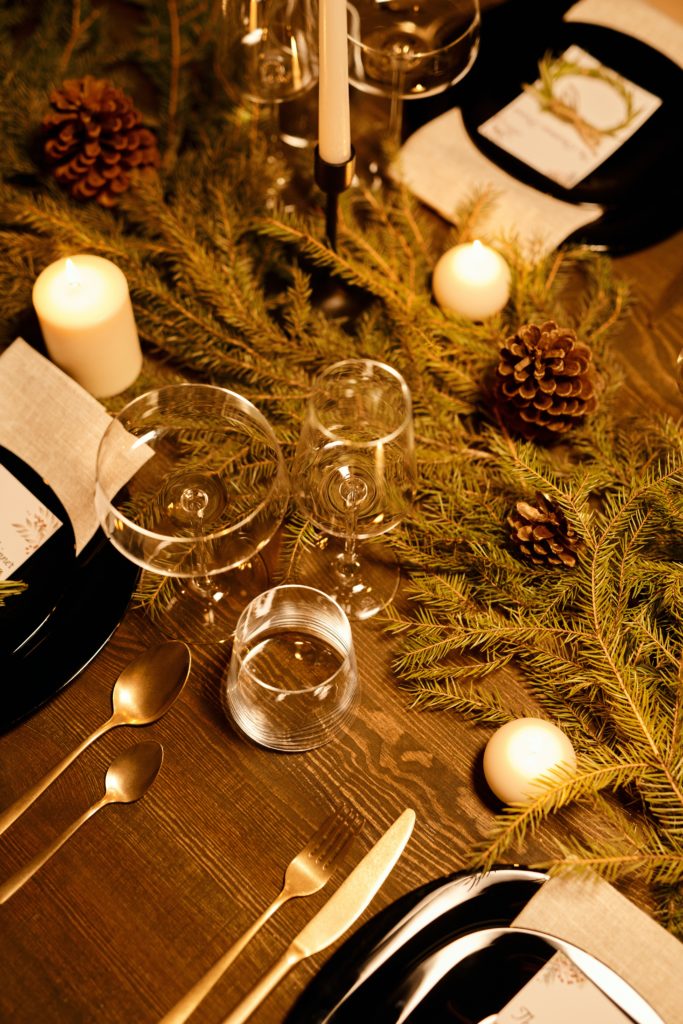 OK, so I confess, that was me, walking around the neighborhood on Sunday with my hedge clippers and a canvas bag. Bruce and I had put out the Christmas decorations and something was definitely missing. It was greenery. I asked my neighbor/friend Sheila, if I could raid her holly bush and the answer was a resounding yes. The prowl in the neighborhood was to yield some variety other than holly and I wasn't disappointed. I snipped a little of this and a little of that from the common and town-owned land. Now, the house is festive and it smells wonderful too. Decorating with greenery is easy and fun. Here are a few thoughts about the ways to incorporate greens (real and faux) into your holiday décor…
"It's only in winter that the pine and cypress are known to be evergreens."

Confucius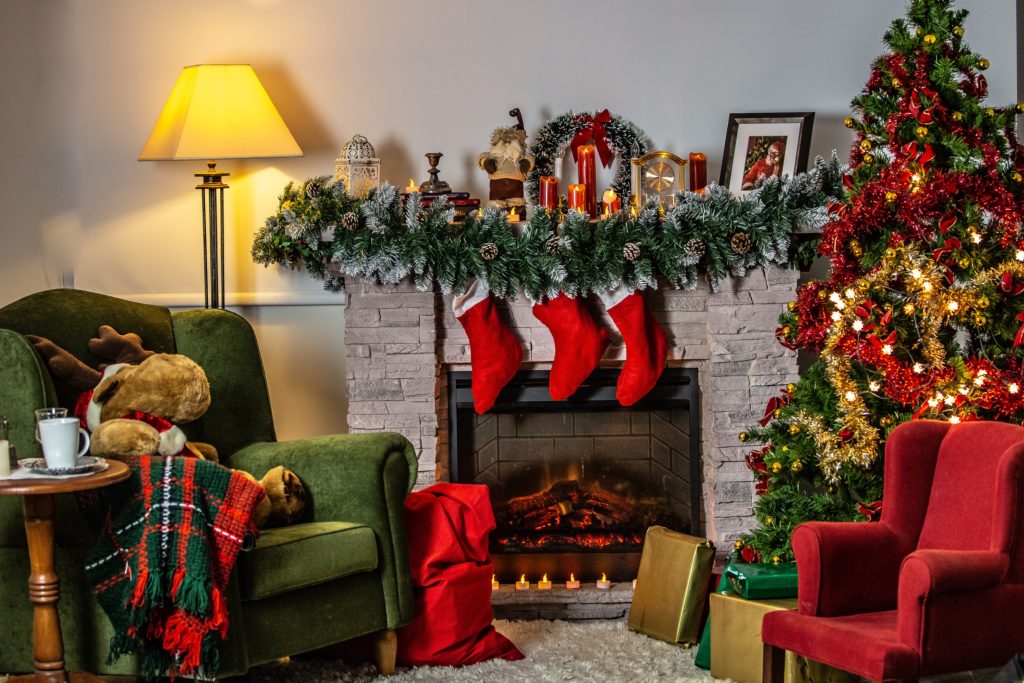 On The Mantel… Of Course
If you are lucky enough to have a fireplace, you know what a focal point it can be in your room. Greenery on the mantel is a natural, whether it's just a swag of greens or if it's there to give dimension to a collection. I have my great grandmothers German Santa, which became a jumping off point for collecting vintage Santa's for me. I've got the Santas on the mantel (see picture above) and the greens just bring them to life. If you chose to put lights on the mantel, greens are a great way to hide the cords – so it's a win-win.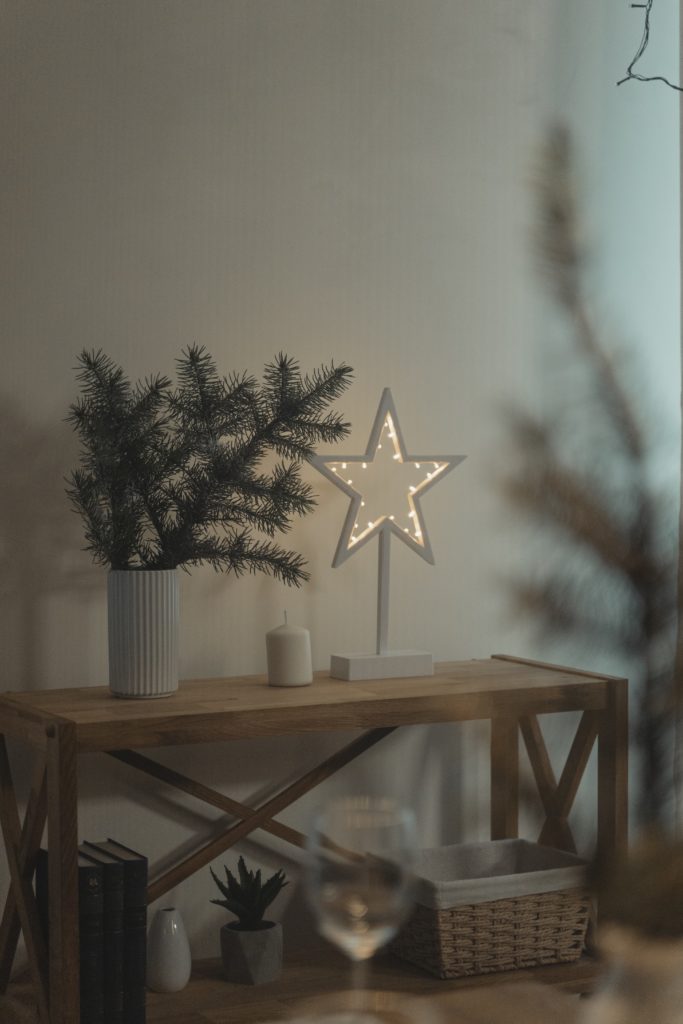 Decorating with Greenery: The Console Table
A console table in the hall or behind the sofa is a great opportunity to decorate, no matter the season. At the holidays, these workhorse pieces allow you to set up a holiday vignette or display candles or holiday cards. The greens just make the console that much more festive.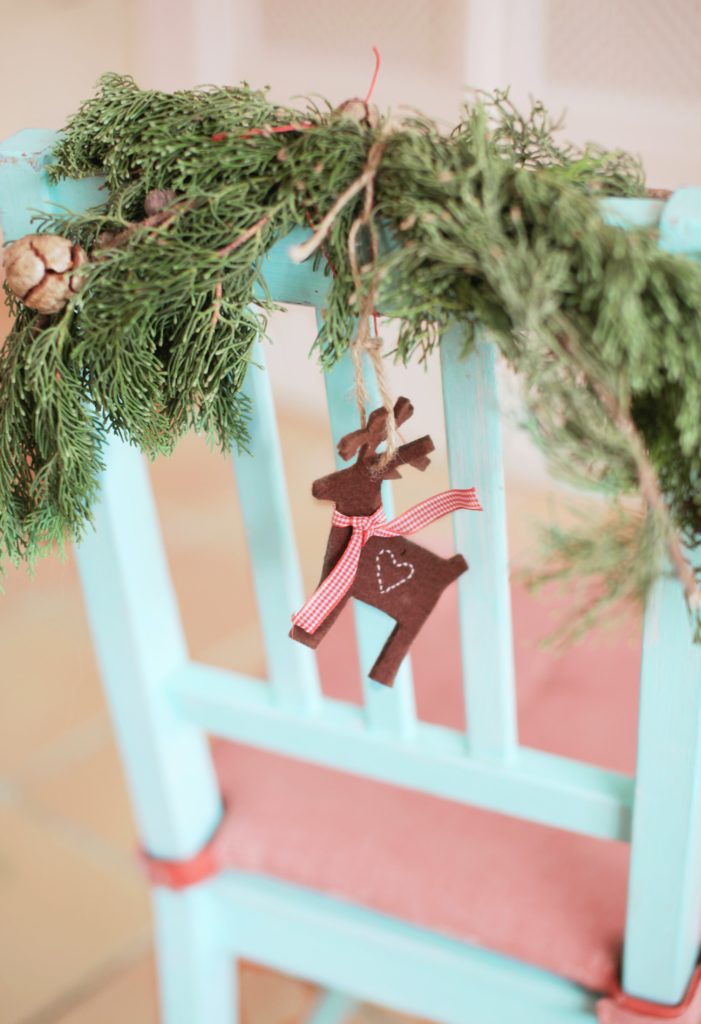 The Dining Table, Another Great Spot For Decorating with Greenery
Right down the table center is a virtual runway for holiday décor. Whether it's a lane of candles or a three-tier tray of shells and glass ornaments, the table center can always be enhanced by greens. If you want to add even more fun, consider decorating the chair backs or the chandelier as well.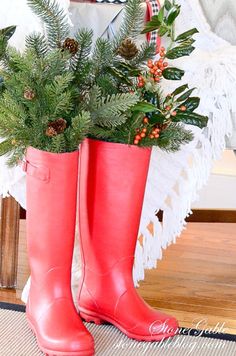 Outdoors is A Great Spot For Decorating with Greenery
I know, there are natural greens outdoors, and I love lighting them up with abandon. Greens can add a lot to your "other" outdoor displays at the holidays. For example, try adding greens to your summer planters or to your hanging baskets (and maybe even add some pinecones or a birch log). Please make sure that the planter or basket can withstand the weather where you are and that there are drain holes. Additionally, you can also add greens around the bench on your front porch or to that sled and skates you use by the garage. Also, I love the idea of adding greens to something unexpected like to boots pictured above (again, drain holes). It's easy to add greens to these pieces – just grab some florist wire from your favorite craft store or some zip ties from the hardware. For more outdoor ideas, checking out Easy Curb Appeal Ideas.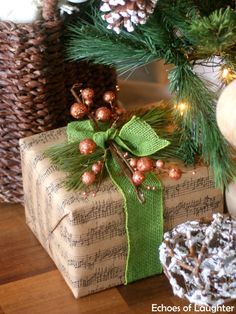 On Packages
I love to embellish packages at the holidays, but man can it add up, even at the dollar store or a thrift spot. I have 3 kids, a new daughter-in-law, an LOML and his son, and with those gifts I'm just getting started. Therefore, adding greens (especially the cast-offs from my tree editing or the "stolen" neighborhood branches) is a great way to make my packages look fantastic at low or no cost.
A Final Thought…
If using real greens make sure to change them once or twice throughout the season to keep them from making a pine needles mess of things. Changing them out will also keep that pine-fresh scent ever-present.
Now For a Little Music Before We Go…
"Laughter is the joyous universal evergreen of life!"

Abraham Lincoln