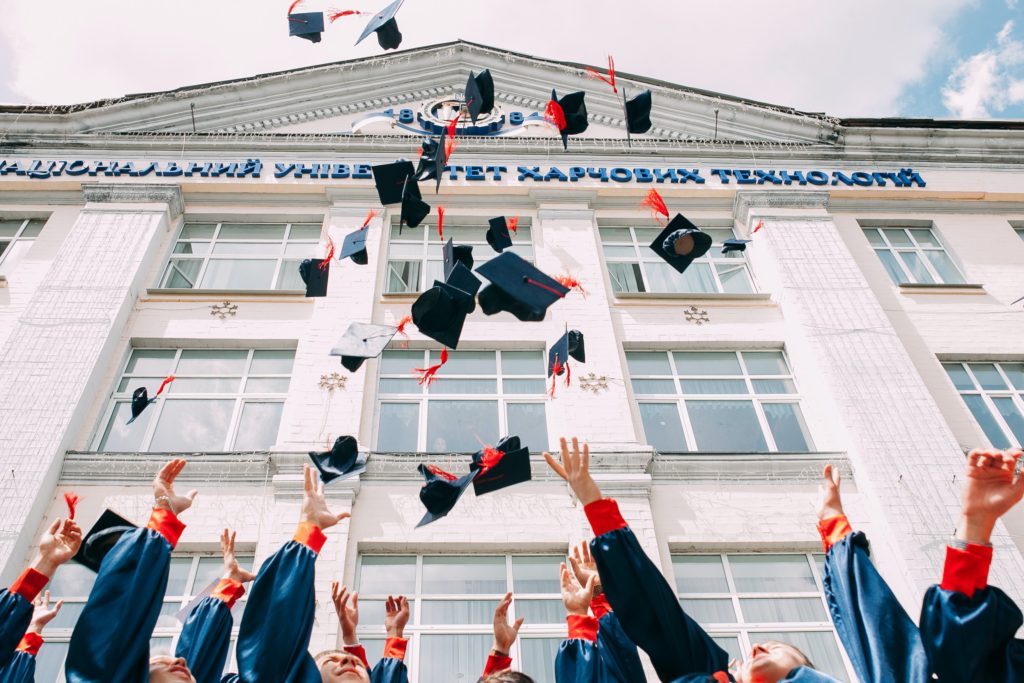 Benjamin, my soon-to-be step-son, graduated from college yesterday. His father and I are so very proud of him, not only for the Petroleum and Finance dual degree that he has earned through grit and hard work, but for the fine young man he has become. To celebrate Benjamin and all those who are graduating this spring, I am sharing with you, and our graduate, some excerpts from and some links to my favorite graduation speeches of all time. They contain some of the best advice in graduation speeches that I have heard. I think you will enjoy them.
Admiral William H. McRaven: University of Texas at Austin, 2014
This one is up first because, it is, in my humble opinion, the best graduation speech EVER given. Admiral McRaven, a retired Navy Seal and a veteran of both Afghanistan and Iraq with an illustrious naval career, gave this speech to his undergraduate alma mater, UT, in 2014. Click the link above to watch it all, but here are some of my favorite excerpts…
It All Starts with the Small Stuff:
"If you make your bed every morning you will have accomplished the first task of the day. It will give you a small sense of pride, and it will encourage you to do another task and another and another. By the end of the day, that one task completed will have turned into many tasks completed. Making your bed will also reinforce the fact that little things in life matter. If you can't do the little things right, you will never do the big things right.
And, if by chance you have a miserable day, you will come home to a bed that is made — that you made — and a made bed gives you encouragement that tomorrow will be better.
If you want to change the world, start off by making your bed."
Sometimes Good Enough Just Isn't, But It Makes You Better In The Long Run:
"Several times a week, the instructors would line up the class and do a uniform inspection. It was exceptionally thorough. Your hat had to be perfectly starched, your uniform immaculately pressed and your belt buckle shiny and void of any smudges. But it seemed that no matter how much effort you put into starching your hat, or pressing your uniform or polishing your belt buckle — it just wasn't good enough. The instructors would find "something" wrong.
For failing the uniform inspection, the student had to run, fully clothed into the surf zone and then, wet from head to toe, roll around on the beach until every part of your body was covered with sand. The effect was known as a "sugar cookie." You stayed in that uniform the rest of the day — cold, wet and sandy.
There were many a student who just couldn't accept the fact that all their effort was in vain. That no matter how hard they tried to get the uniform right, it was unappreciated. Those students didn't make it through training. Those students didn't understand the purpose of the drill. You were never going to succeed. You were never going to have a perfect uniform.
Sometimes no matter how well you prepare or how well you perform you still end up as a sugar cookie. It's just the way life is sometimes.
If you want to change the world get over being a sugar cookie and keep moving forward."
Steve Jobs: Stanford, 2005
I think, unless you've been living under a rock for the last 40 years or so, you're probably familiar with this next speaker. You wouldn't have your iPhone, Windows or Buzz Lightyear without Mr. Jobs, after all. Although he passed away from cancer in 2011, his words are as poignant today as when he spoke them at Stanford in 2005.
Trust Your Instincts:
"You can't connect the dots looking forward; you can only connect them looking backward. So you have to trust that the dots will somehow connect in your future. You have to trust in something — your gut, destiny, life, karma, whatever. This approach has never let me down, and it has made all the difference in my life."
You Need To Love What You Do:
"Sometimes life hits you in the head with a brick. Don't lose faith. I'm convinced that the only thing that kept me going was that I loved what I did. You've got to find what you love. And that is as true for your work as it is for your lovers. Your work is going to fill a large part of your life, and the only way to be truly satisfied is to do what you believe is great work. And the only way to do great work is to love what you do."
Shondra Rhimes: Dartmouth, 2014
I include Ms. Rhimes speech to her alma mater, Dartmouth, here because I love her. I admire her take-no-prisoners personality. She's super talented and super smart and hers is definitely one of the best graduation speeches.
Dreams Are Made of Hard Work:
"Dreams are lovely. But they are just dreams. Fleeting, ephemeral, pretty. But dreams do not come true just because you dream them. It's hard work that makes things happen. It's hard work that creates change.
So, Lesson One, I guess is: Ditch the dream and be a doer, not a dreamer. Maybe you know exactly what it is you dream of being, or maybe you're paralyzed because you have no idea what your passion is. The truth is, it doesn't matter. You don't have to know… just … keep moving forward. You just have to keep doing something, seizing the next opportunity, staying open to trying something new. It doesn't have to fit your vision of the perfect job or the perfect life. Perfect is boring and dreams are not real. Just … do. So you think, "I wish I could travel." Great. Sell your crappy car, buy a ticket to Bangkok, and go. Right now. I'm serious."
Try Doing Something For Someone Else:
"Volunteer some hours. Focus on something outside yourself. Devote a slice of your energies towards making the world suck less every week. Some people suggest doing this will increase your sense of well-being. Some say it's good karma. I say that it will allow you to remember that, whether you are a legacy or the first in your family to go to college, the air you are breathing right now is rare air. Appreciate it."
J.K. Rowling: Harvard, 2008
Finally, I include a speech from one of my favorite writers, a woman who, as a single mom, pulled herself out of abject poverty to become one of the most successful novelists of all time. J.K. Rowling gave the gift of imagination to my kids and millions of other readers. She gives pretty good advice too…
Failing Makes You Stronger:
"Failure gave me an inner security that I had never attained by passing examinations. Failure taught me things about myself that I could have learned no other way. I discovered that I had a strong will, and more discipline than I had suspected; I also found out that I had friends whose value was truly above the price of rubies.
The knowledge that you have emerged wiser and stronger from setbacks means that you are, ever after, secure in your ability to survive. You will never truly know yourself, or the strength of your relationships, until both have been tested by adversity. Such knowledge is a true gift, for all that it is painfully won, and it has been worth more than any qualification I ever earned."
Be a Voice For Those Who Don't Have One:
"If you choose to use your status and influence to raise your voice on behalf of those who have no voice …identify not only with the powerful, but with the powerless… and retain the ability to imagine yourself into the lives of those who do not have your advantages, then it will not only be your proud families who celebrate your existence, but thousands and millions of people whose reality you have helped change. We do not need magic to change the world, we carry all the power we need inside ourselves already: we have the power to imagine better."
A Few Last Thoughts…
So, no matter what your age, no matter how close or far you are from graduation (yours or someone you love), I do so hope that some of these words have inspired you…
And to you, my dear Benjamin, I will leave you with this piece of wisdom from another one of my favorites. I love you, kid.
"You're off the Great Places! Today is your day! Your mountain is waiting. So…get on your way!"

Dr. Seuss, Oh, The Places You'll Go!
For other inspirational reads, check out my previous blogs: A Love Letter to My Son on His Wedding Day and Stories of Real Retail Customers That Will Make You Smile.
Have a lovely day, my friends. Marianne