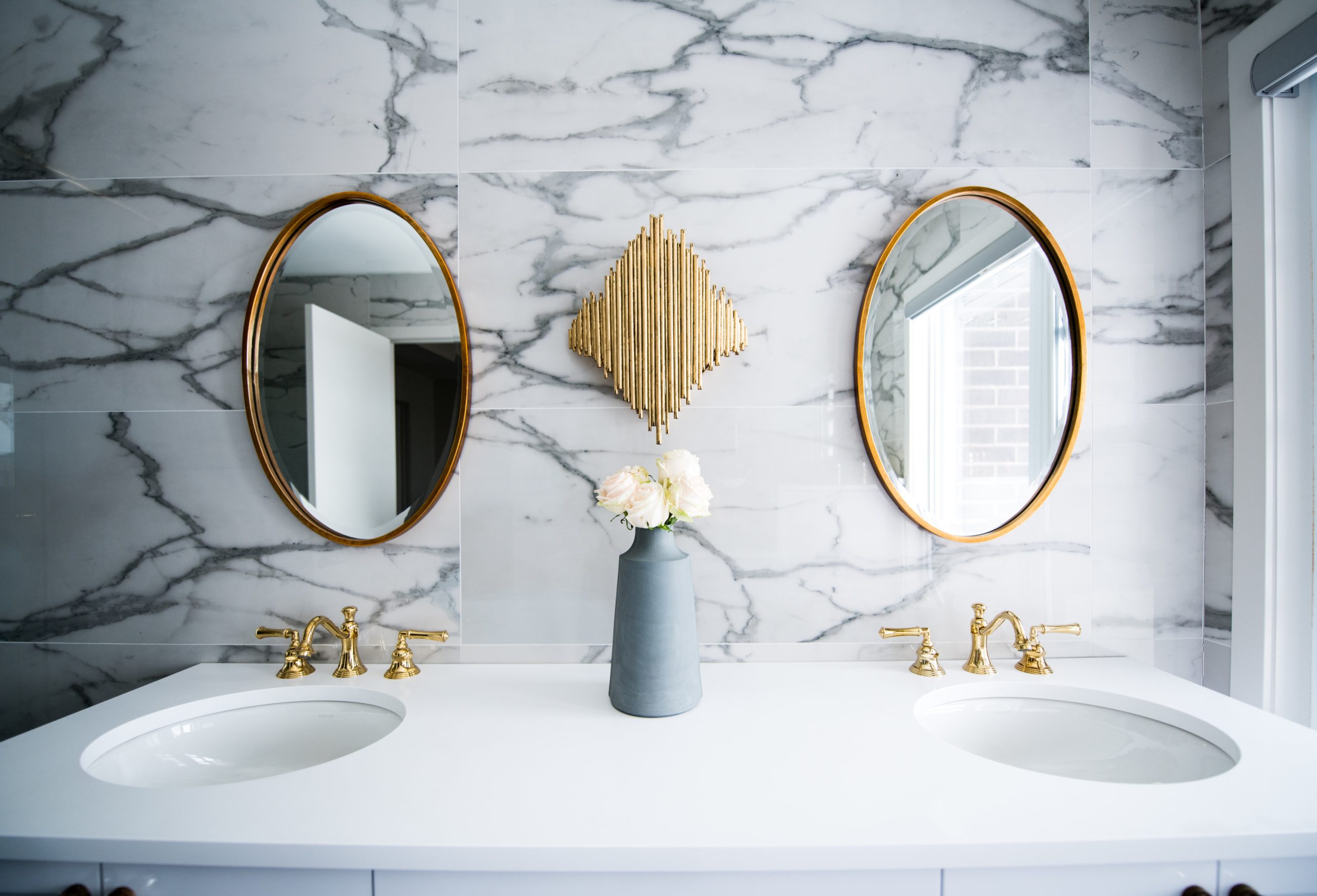 "If I want to be alone, some place I can write, I can read, I can pray, I can cry, I can do whatever I want – I go to the bathroom."

Alicia Keys
This is the third installment in this series on interior design steps. We have already covered the steps for a Living Room Design and Bedroom Design and today we will discuss the bathroom. Some of the basic steps are the same, but a bathroom will have its own unique aspects, as well. This blog is for decorating or re-decorating a bathroom, not gutting one to the studs and starting anew – as that's a topic for another day. That means that we skip the layout step, as in other design projects, because the major pieces are literally set and you will work within that floor plan. You will also skip the "Buy Your Major Pieces" step of other projects, as the tub, sink, etc. aren't going anywhere. So let's begin… with first things first…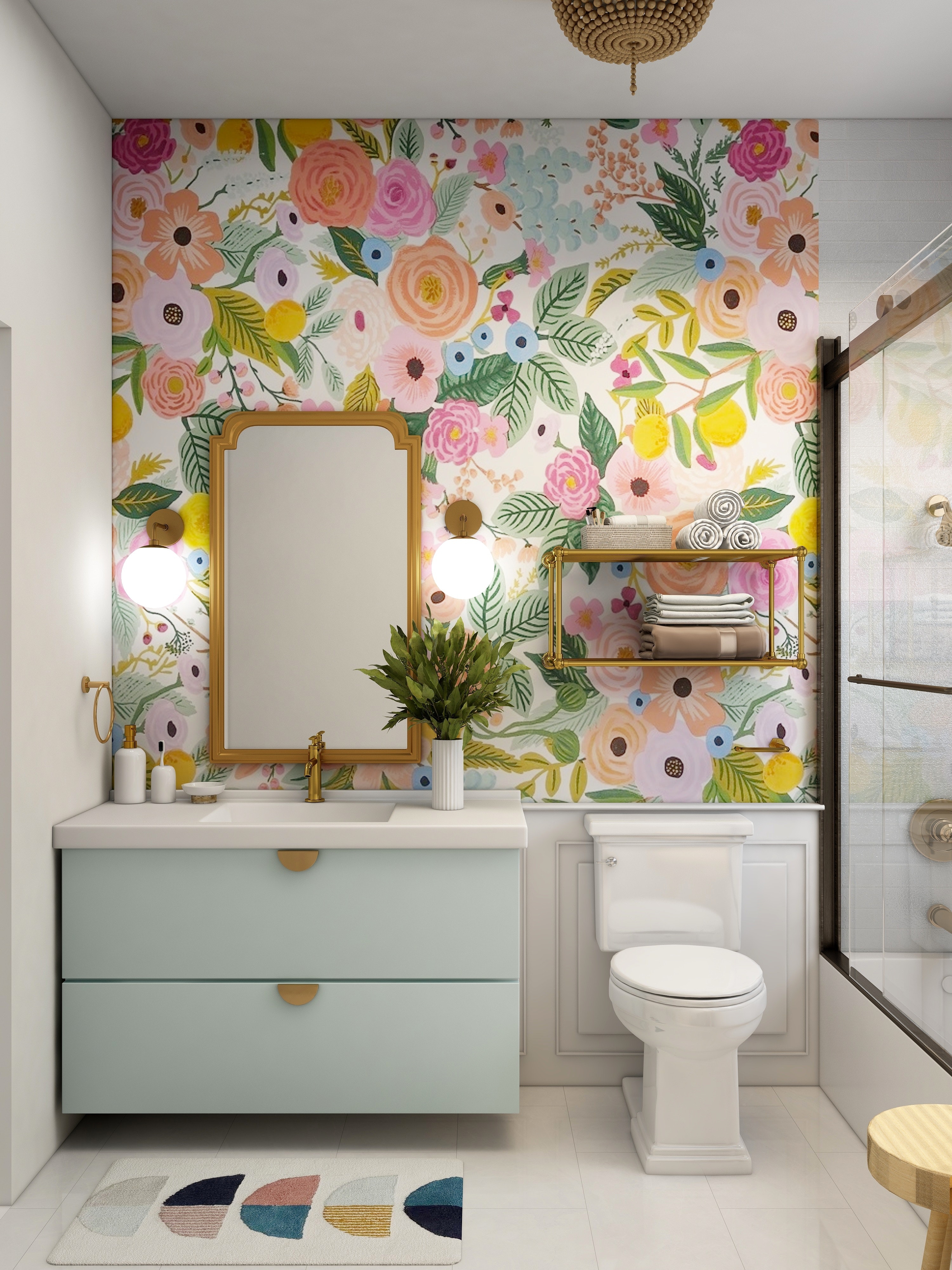 1. Measure Your Space
This bathroom project is a refresh of your existing bath, so you wouldn't think that you need to measure the space; the major pieces are, in fact, already in place. But you do indeed need to measure, the floor space for things like area rugs, the walls for paint or wallpaper quantity or if you are considering an accent wall and the windows for treatments. If you have a large or unusual tub/shower you may also want to measure that to make sure that you only need one shower curtain or if you are replacing the shower door (a not-so-big project that can update your bath in a snap).
2. Choose Your Aesthetic
A lot of people don't think about aesthetic when it comes to a bathroom because there usually isn't much furniture to speak of. Aesthetic should be considered, however, to make sure that the bath works with the design of the rest of the house, especially those rooms in close proximity. If your house is Victorian, you can definitely bring this feeling in through color and fabric choices. If you favor the Mid-Century Modern look, the same thing applies. You can also "theme" a bathroom with objects and art, but don't be trapped into the idea that the bath needs to have bath-related art, signs, etc. It's just another room in the house and people know what it's for, your don't have to clue them in with your choices unless you want to.
3. Choose Your Color Palette
As with a bedroom, many people get ready in the bath, so colors that flatter skin tone are good, natural choices, like pastel tones, creams and light grays. Dark colors can work in the bath if you have a lot of natural light or a lot of contrast with the fixtures (like a big, white tub). Darks are harder if there's only one window. White tends to be used a lot in bathrooms, but it can be awfully stark. Despite these guidelines, the over-riding rule in color choice is always: choose what you like and then make it work. Choose a primary color for the walls and 1-3 accent colors.
4. Refresh Your Lighting
Because this is advice for a refresh not a gut, a lot of the fixtures are remaining. Lighting, however, is one element that is easy enough to replace or add with a licensed electrician. Don't do this step yourself. I can't stress this enough. My ex-husband almost blew up our house trying. Pay a professional. It's the safest way to go and so worth it because updating lighting is an easy way to bring most outdated bathrooms into this millennia.
5. Choose Accessories and Fabrics
Now, my favorite part: choosing fabrics and accessories. High-quality towels are the quickest way to give your bathroom the spa-like feel they are always talking about on HGTV. They are worth the investment and will last practically forever. Shower curtains and window treatments can bring in your accent colors. Art and bath accessories finish your look and your new bathroom. Now it's time for a good soak… ahhhhh!
A Final Thought…
People spend a lot of time in their bathrooms. Why not take some time and turn it in to a little piece of heaven?
And Now For Some Music Before We Go…
"My kids always perceived the bathroom as a place where you wait it out until all the groceries are unloaded from the car."

Erma Bombeck