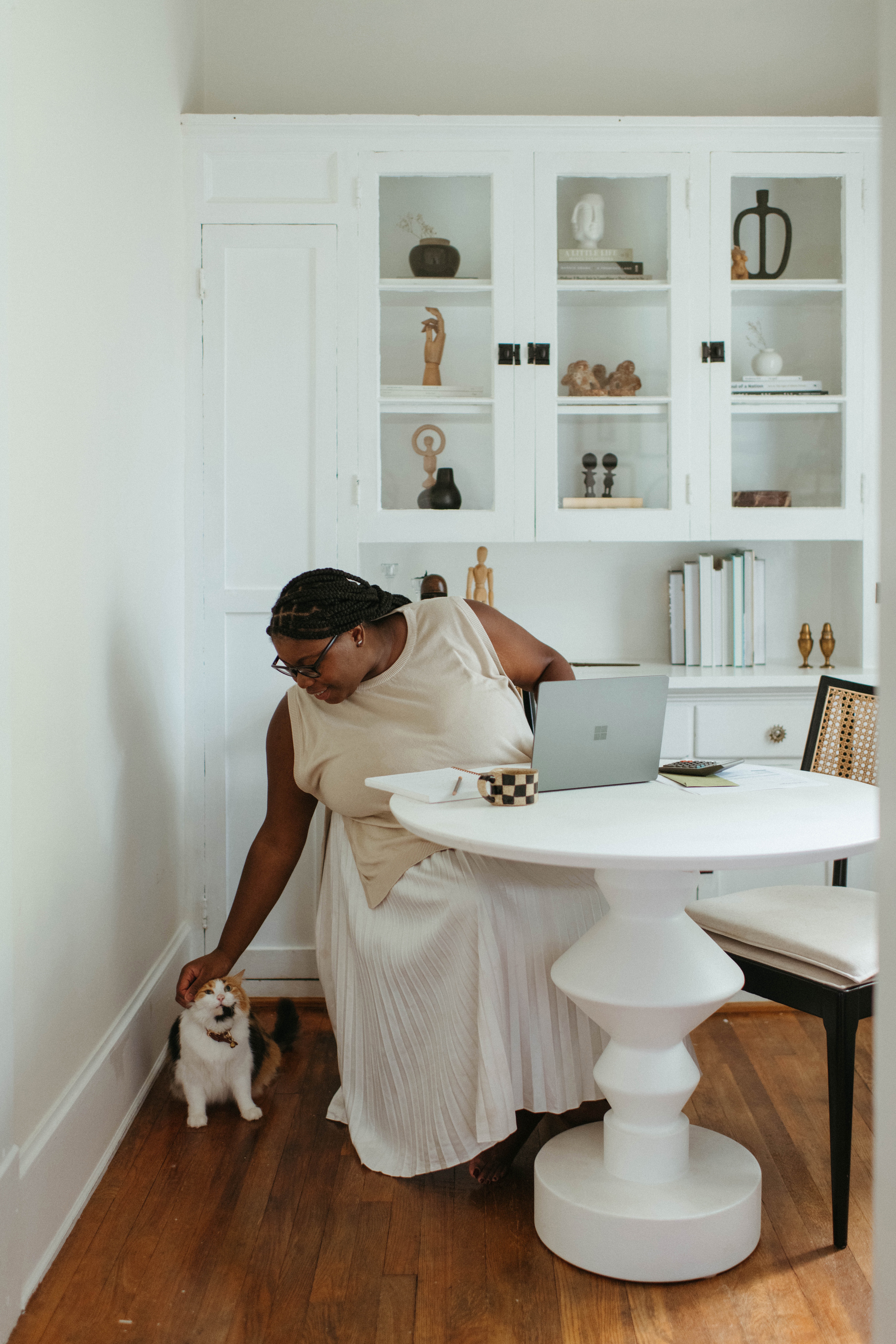 In the first few days following the outbreak of COVID19, a lot of people learned very quickly about the value of having an office space in their home . Going forward, more people than ever are doing their work, at least part of the time, from their own home. Some of these spaces work well for this. Others lack functionality and comfort. It doesn't take much, though, to create a work from home space that works. Read on for some tips: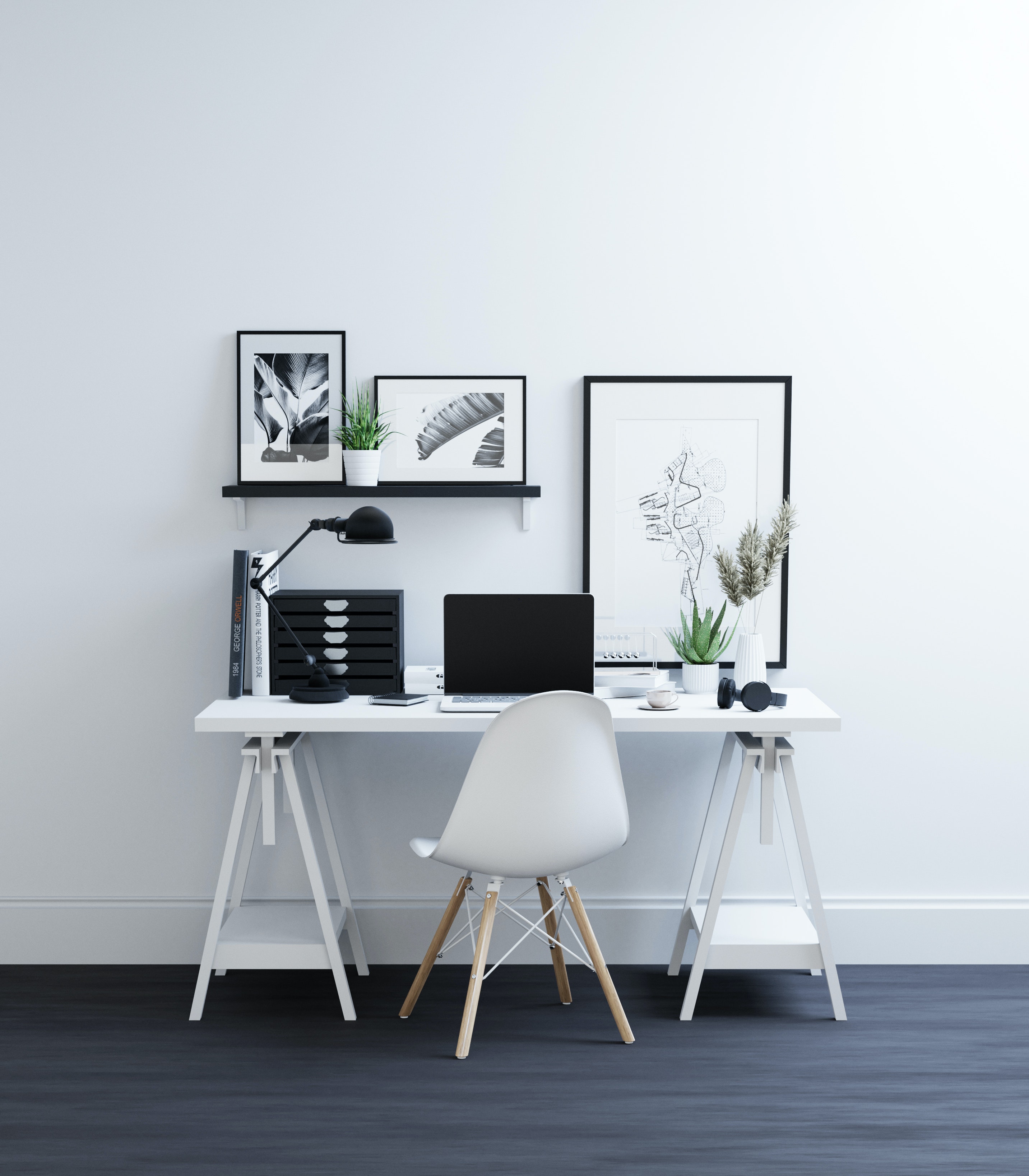 "Whether it be the sweeping eagle in his flight, or the open apple-blossom, the toiling work-horse, the blithe swan, the branching oak, the winding stream at its base, the drifting clouds, over all the coursing sun, form ever follows function, and this is the law."
Louis Sullivan
The Basic Office Space Needs:
It doesn't even have to be a desk, but you surely need a flat surface on which to work. You can create a work from home space with these basics:
A desk or something that acts as one is essential. Your kitchen table can work, just asked my daughter Charlotte, who's doing second her semester junior year from mine. However, do you really want to be in the middle of the madness that is the kitchen? Use a small table as a desk. You can use a board on top of some crates. Or use a traditional desk. But give yourself a surface – and one that doesn't have to be cleared off consistently because the surface has another purpose.
Sufficient storage for any paper files, office supplies, etc.
Light both natural and electric – let's see what we're doing, people.
Electricity and internet is key. No sense setting up an adorable work space in a great spot in your house and then finding out it's a internet dead-zone. And you need a power source to charge your computer and your phone.
: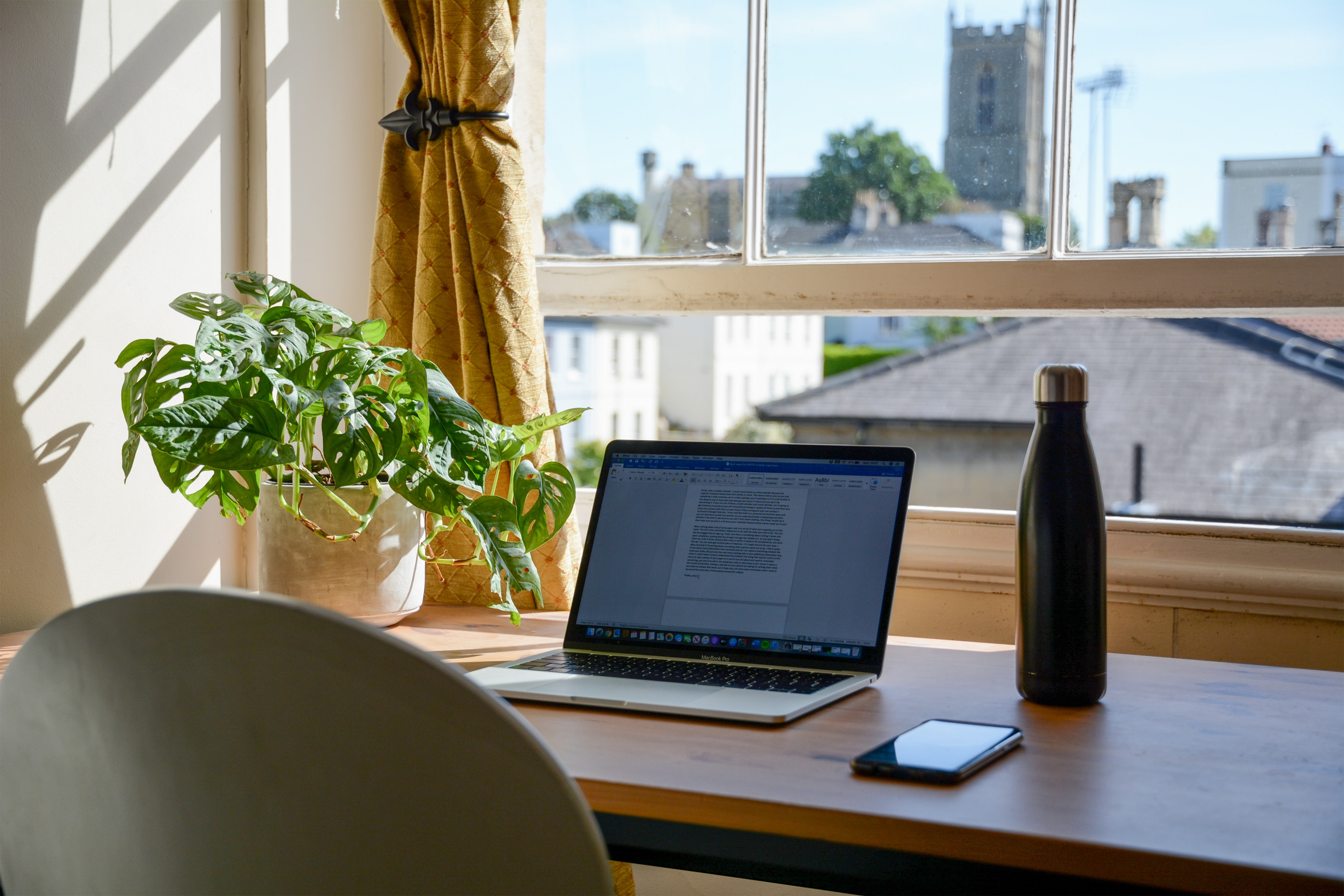 Create Work From Home Space With Light and Lights:

Natural light can't be under estimated. Just watch any HGTV Show and you'll see… everybody wants three things: granite counter tops, stainless steel appliances and NATURAL LIGHT! If you chose a space for your your home office with good natural light it will increase your productivity. It will enhance your mood.

When you create a work from home space, lamps are key. Lamps need to provide sufficient light for the work at hand – and there are so many energy-efficient task lights on the market today that you will be able to have something stylish as well as functional and energy-efficient.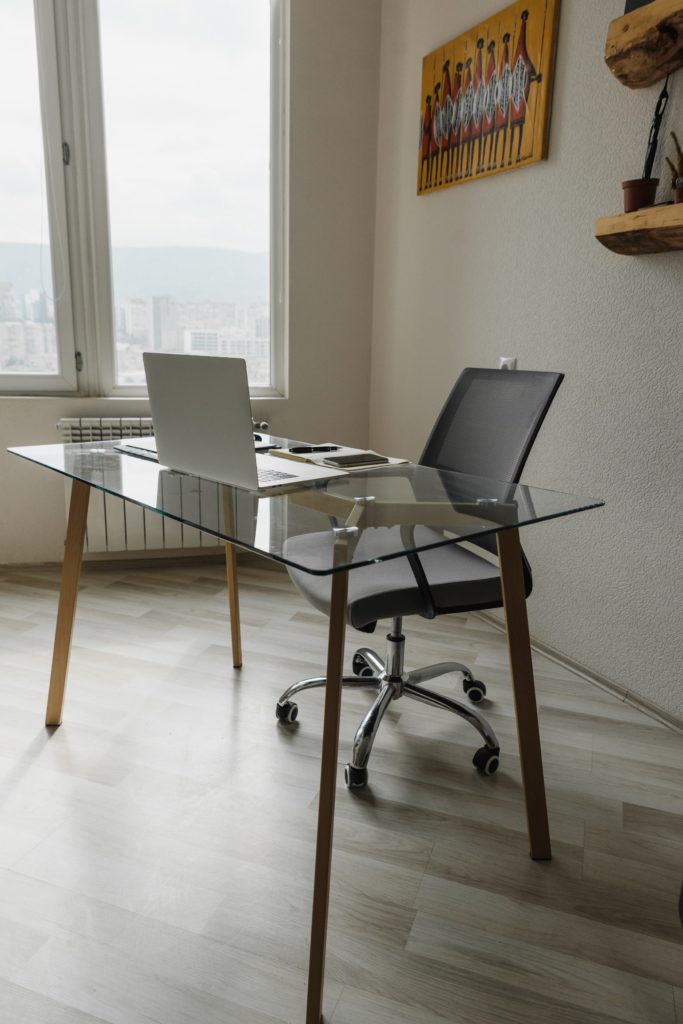 Comfort Is Key When Creating Work From Home Spaces:
As a person with two herniated disks, I can tell you that you will never have buyer's remorse from purchasing a comfortable desk chair. Pinterest is filled with adorable workspace ideas with the most uncomfortable chairs imaginable. Unless you plan on using a standing desk, invest the extra dollars in an ergonomically correct chair. For a quick guide to what's best click here.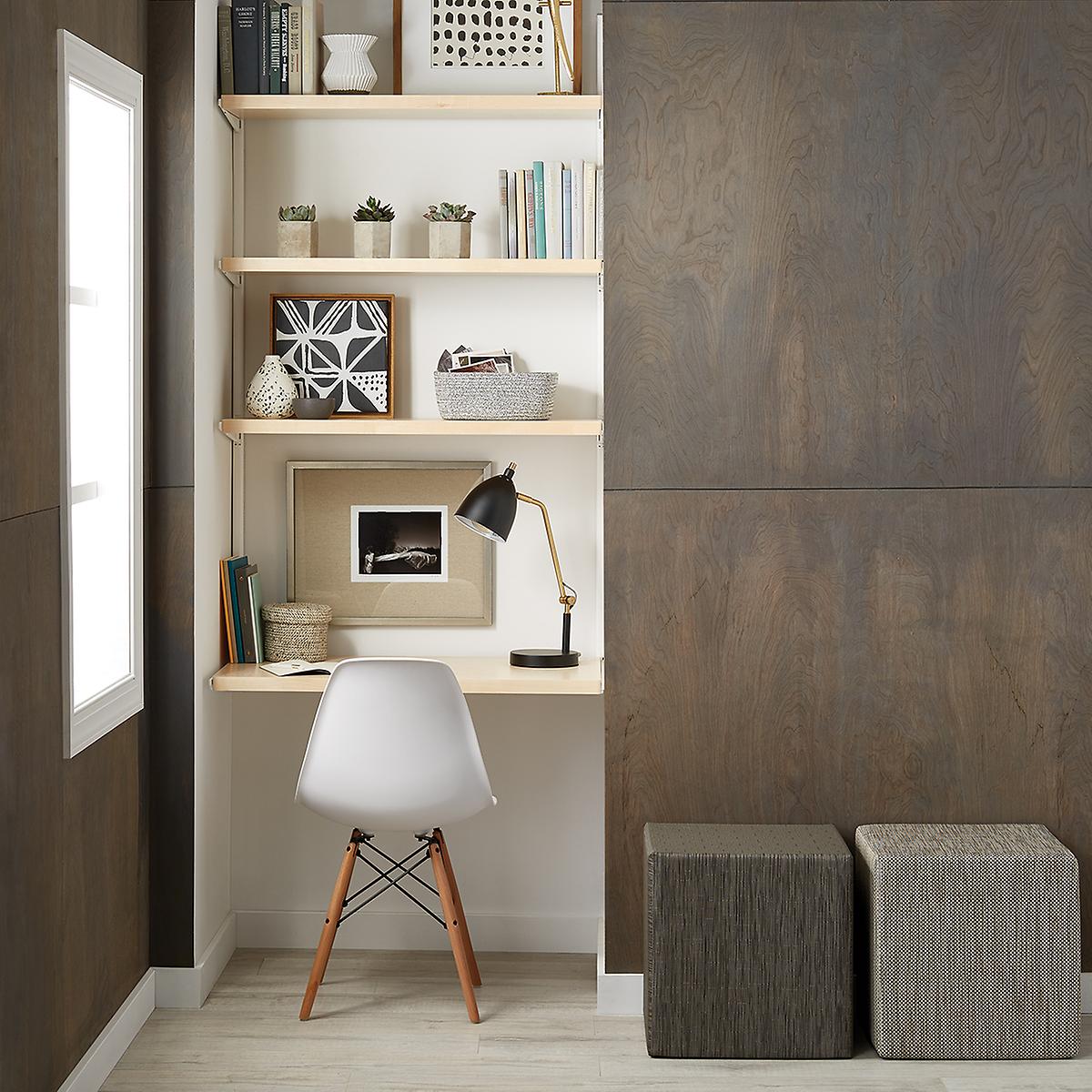 Making Something Out of Nothing:
So, you know what you need to set up this great workspace, but you're still asking yourself: Where the heck am I going to put it? You're already saying: I don't have a spare bedroom – and if I did I would sleep in there myself to enjoy a night's rest without that incessant snoring! My house is too small! My spaces are already committed to other functions! UGH! What am I going to do? Well, now's the time to get creative – and in some cases, to "make something out of nothing."
Some Ideas:
Carve a Workspace Out of a Closet
You don't even have to remove the rod or upper shelf. It's easy to put some cleats or "L" brackets on the side and back walls and then slip a writing surface into place. Electricity is a little tough with this one, so be sure to pick a closet near a wall outlet. The best part is, you can close the door at the end of the day. Use a rolling rack to store the clothing that previously hung there, and then Marie Kondo those bad boys.
Use A Television Armoire
Not a single person on planet earth wants these big television armoires anymore, but if you still have one (and don't use it) it's the perfect time to turn it in to a workspace. A great thing with these is that many of them come with a power strip built in, or at least a hole to run the wires through. Just like the closet, when the work is over, the doors close! Love it!
Replace an End Table Beside The Couch With a Desk
This option is perfect for the neater-kind among us, because you are going to see it all, but in essence you don't really lose anything. The desk or table acts as the end table for the couch when it's not functioning as workspace.
Create a Nook Under The Stair
You and Harry Potter can both have your "cupboard under the stairs," which is often an actual void in your house, so it's ripe for grabbing it as extra square footage. If you are lucky enough to have a cupboard already carved out of this space, convert it to workspace – door or none.
Partition Off Part of Your Bedroom With a Screen or Curtain
I am personally biased against a workspace in the bedroom, for so many mentionable and unmentionable reasons. However, if you must locate your workspace here, try cordoning it off with a folding screen or curtains hung from ceiling hooks. It's better to have the defined workspace and not see it than to not have it or to have it calling to you to send an email at 2am.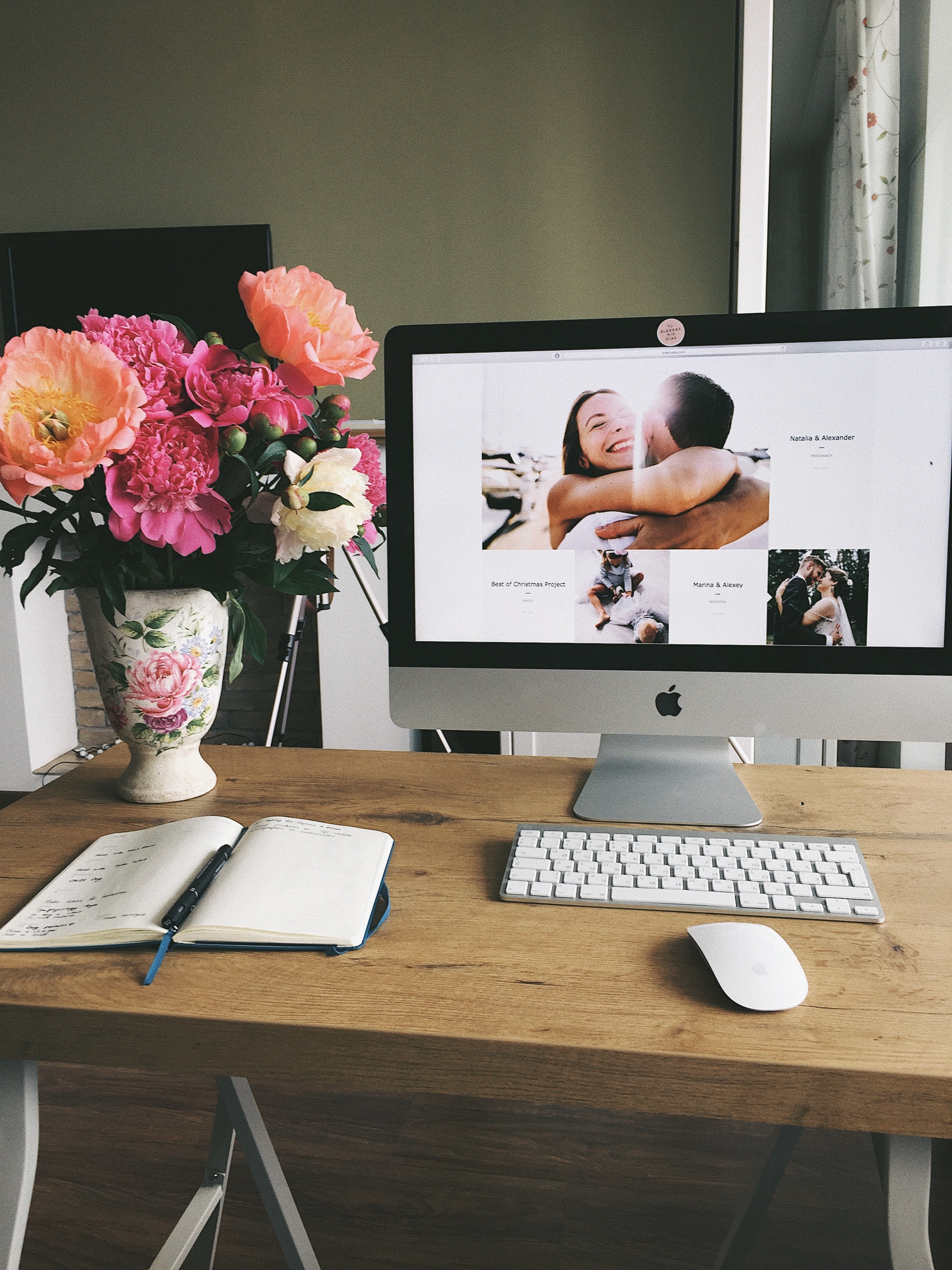 It's Nothing Personal…Or Is It?
OK, so I 'm admitting to my personal biases right up front on this one. This is by far my favorite part of setting up the work space – well actually any space. Personalizing a space makes you want to use it. It's putting some items near you that you want to see. Surrounding yourself with things that make you happy. You know what they say, on your death bed you are never going to wish that you spent more time at the office. But because food still costs money and kids still need to go to college and then get the heck out of your house – work you must. Why not make it a more pleasurable experience?
Add things like:
Greenery – Ah, oxygen!
Family photos -I mean, if you like your family.
Decorative boxes to store the unsightly things like extra staples and masking tape.
Portable speaker, if you like working to music.
A beautiful vase that you fill with grocery store flowers as a treat to yourself each week.
An aromatic candle – to treat another one of your senses.
ART: humans should not live without it – enough said.
And if space allows, a comfy chair and a cozy throw – for reading and thinking, away from your desk (or for someone you actually like to sit in and visit, during your well-deserved break).
And Now For A Little Music Before We Go…