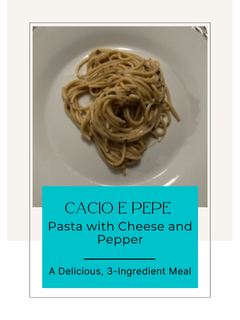 This delicious recipe takes 15 minutes from start to finish and has only 3 ingredients. Bruce introduced it to me the other night and we made it together, sipping wine and laughing at my inability to pronounce it in Italian (in case you're wondering: Ca-Chi-O-E-Pep-A). Listen, everyone scrambles, on occasion, to make something edible for the family on short notice. This recipe is a great one because you need only 3 ingredients and the Pecorino Romano cheese that it requires has a long shelf-life in your fridge and most folks can pull peppercorns and spaghetti out of their pantry without too much forethought. So check out the ingredients list and instructions below and then have a look at Eva in the video below for further color, tips and tricks.
Ingredients:
8oz spaghetti (Reserving Pasta Water is Key)
1/2-3/4 Cup Finely Grated Pecorino Romano Cheese (Parmesan in a pinch)
1 Tablespoon Peppercorns (Ground with Mortar & Pestle)
Instructions:
Boil water for pasta
Meanwhile, crush peppercorns in mortar and pestle.
Place ground pepper in a large frying pan and heat on medium until fragrant (1-3 mins), being careful not to burn.
Cook pasta for 2 mins less than instructions.
As pasta is cooking, put 1-2 ladles of pasta water in the pan with the pepper and continue to cook it.
Reserve 1 additional cup of pasta water.
Place grated cheese in a mixing bowl and add a ladle of pasta water to the cheese so it melts and stir until it becomes a smooth consistency.
When pasta is two minutes from done, drain and place pasta in frying pan with the pepper and water.
Cook an additional two minutes and then fold in cheese mixture, stirring until smooth.
ENJOY!
Here's Eva's Video…
This woman is great… Her instructions are fabulous… especially her warning about American-made, deli cheese and how to avoid what she calls, Mappazzone, "The Disgusting Pile." You're Going to love her!
A Final Thought…
I hope you will try and will enjoy this recipe… whether or not you can pronounce it. LOL. As always, be safe out there, my friends… and have fun!