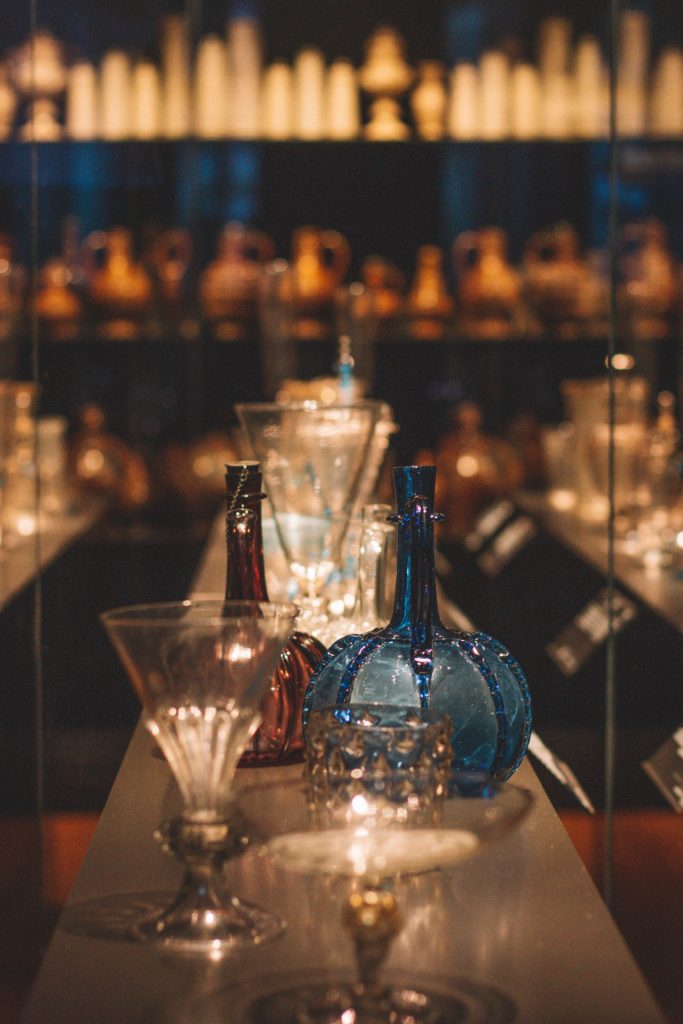 When my Mom worked for me at the store she was fond of saying,' "There surely is a lot of glass in the world." By this she meant that it was practically impossible, at least in her opinion, to be an expert on all of it. Even though she was an endless font of knowledge when it came to antiques, having been a dealer for several decades, when it cam to glass Mom came up a bit short. I get it. There is a lot of glass in the world. I do admit that I'm no glass expert either, but in the 16 years we have been open, I have surely seen a lot of it. Mom is right.
Glass is super interesting though, and collecting glass is seeing a real surge in the last few years. I think there are three primary reasons for that: It's pretty. It's portable. It's readily available. So if you're thinking about starting to build a glass collection to display on those open shelves in your kitchen or just to use on the daily, the following is a quick primer on some of the major types of glass. Enjoy!
"Depression glass is more than just another collection. It provides an intriguing, interesting hobby rich with history, and it brightens the home along with the spirit just as it did back in the day."

Pamela Wiggins
Milk Glass:
Milk Glass gets its name from its color – it's white, opaque glass. Originally created as an alternative to porcelain in 1500's Italy, Milk Glass has been popular on and off since then. Although associated with the white, opaque glass, there is such a thing as colored Milk Glass but it more-often goes by other names when it is represented in other colors (like Jadeite, see below). Today, most Milk Glass forms are very utilitarian. You can find Milk Glass in bud vases, compotes, butter dishes and salt and pepper shakers. Many people who collect Milk Glass use it daily as it comes in so many forms and is relatively inexpensive. There are many patterns of Milk Glass, and some people chose to only collect Westmoreland or Fenton and some people chose to collect a pattern, like hobnail. It's fairly safe to say that Milk Glass can be found in every thrift and consignment shop in America.
Depression Glass:
Depression Glass refers to machine-made glass produced in the United States between 1929-1939 (Great Depression Era) that was cheaply produced and then given away inside of products, like cereal, or at places of business, like movie theaters. The most common colors for Depression Glass are clear (crystal), pink, pale blue, green, and amber. Less common colors include yellow (canary), ultramarine, cobalt blue, red (ruby and royal ruby), black and amethyst. Depression glass forms are mostly dishes and glassware used in eating and drinking. Depression glass was made in more than 100 patterns and has been reproduced and continues to be reproduced, copied and faked.
Carnival Glass:
Carnival Glass made its first appearance in 1907 as a inexpensive alternative to Tiffany Glass. At first people didn't see a lot of value in it, so it was often given away at carnivals – hence the name. Fenton Glassworks, of Marietta, OH, is credited with creating the first Carnival Glass. Carnival is prized for its lustrous quality that is created by spraying the hot glass with metallic salts before firing. The sheen that is created changes color when pieces are viewed at different angels. Carnival glass comes in many colors including amethyst, reddish purple, blue, green, red and amber. The most common color is orange.
Jadeite:
Jadeite can thank Martha Stewart. The grand diva of homemaking collects Jadeite and she made it exceptionally popular beginning in the mid 1990's. Jadeite is also known as Fire King Jade-ite. Jadeite is a Jade-green opaque milk glass. The most popular forms of Jadeite are kitchen items like mixing bowls, cake stands and shakers of all types; because of this, many people collect Jadeite as a decorative glass for use as accents in their kitchens.
Elegant Glass:
Elegant Glass was made during the same period as Depression Glass and beyond until the 1950's. It was more expensive than Depression Glass and better made. Much Elegant Glass was at least partially hand-made and made from higher quality materials that resulted in finer quality glass in more vibrant colors than Depression. Fire polishing was used on Elegant Glass to take out many of the common flaws found in pressed glass. Clear Elegant Glass is common and it was also made in red, blue, green, amber, yellow, smoke, amethyst, and pink. Major manufacturers of Elegant Glass are Fostoria, Cambridge, Fenton and Heisey among others.
What Else Is Good About Collecting Glass:
Most collectible glass is fairly inexpensive and pretty easy to find; because of this, and the many practical forms that it was made in, you can feel confident using it on the daily – and who doesn't want to enjoy using something beautiful – every day?
Now For A Little Music Before We Go…
"The intellect of the wise is like glass; it admits the light of heaven and reflects it."

Augustus Hare