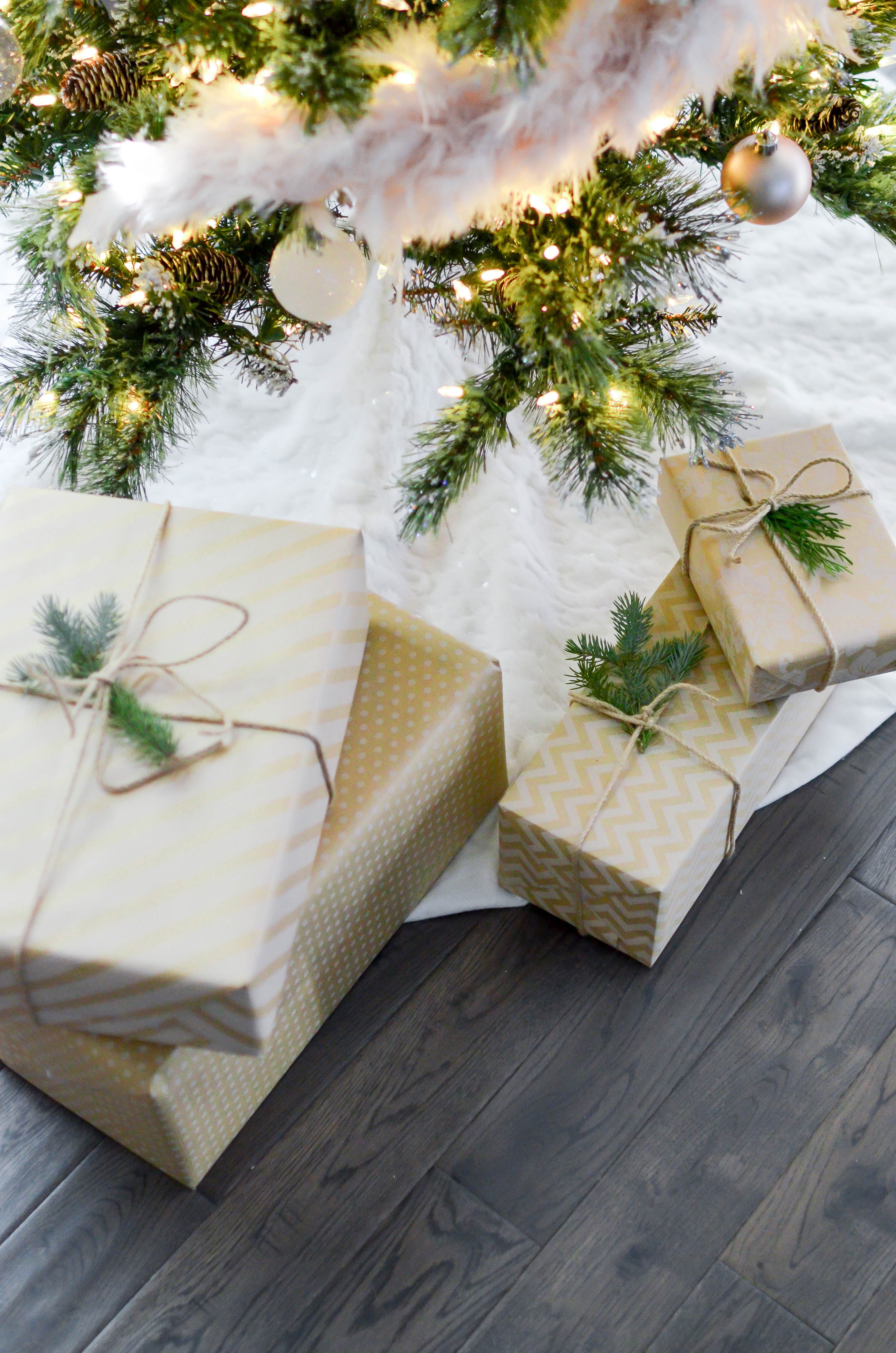 Gift Wrapping Ideas That Are Fun and Inexpensive
It doesn't take much effort, time or money to make your gift wrapping truly special. Grab your scissors, tape and a few "extras" noted below and you'll be well on your way to beautifully wrapped gifts. Try one or several… of these ideas… you won't be sorry.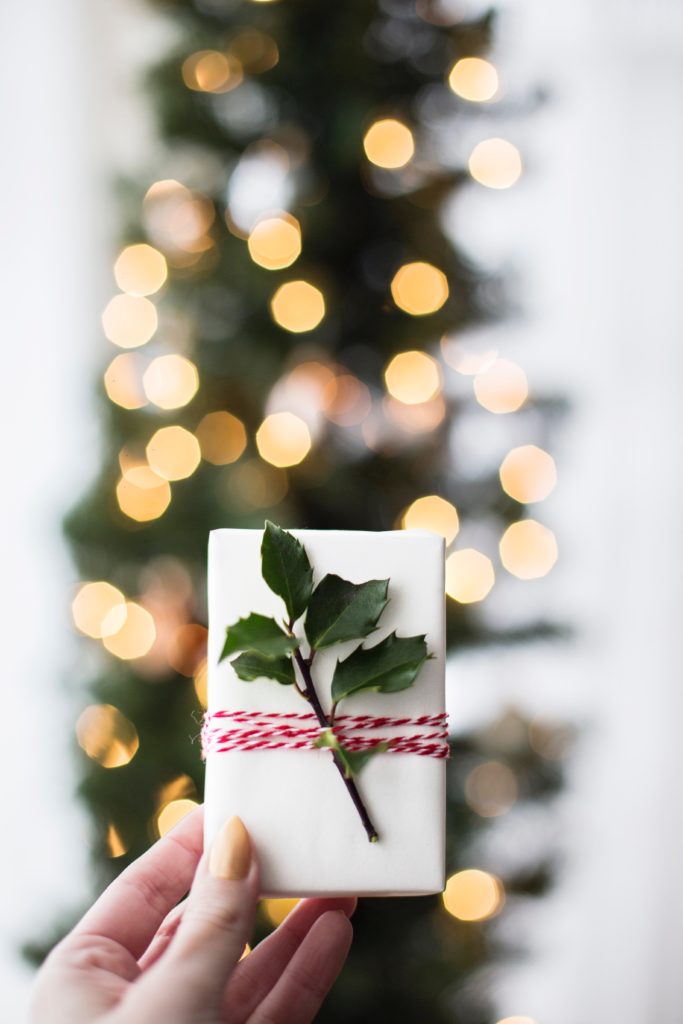 Gift Wrapping Idea #1: Use Greens and Other Natural Objects
It never fails, we always seem to pick a tree that is a bit too tall for our 8 foot ceilings. No worries. We trim it. We shape it. And we end up with a lot of left-over greens. I use these greens for decorating all around my home. I add snips of these greens to my packages to make them festive. (Also see my blog: Decorating with Greenery).
But greens aren't the only natural elements to add to your holiday packages. You can also add things like shells and pinecones, which are both available for free in your local forest or at the town/state beach. This year I'm adding cinnamon sticks to the greens on my packages (I bought a jar of them for $2.25 at a local discount store). My packages will be pretty and smell wonderful too.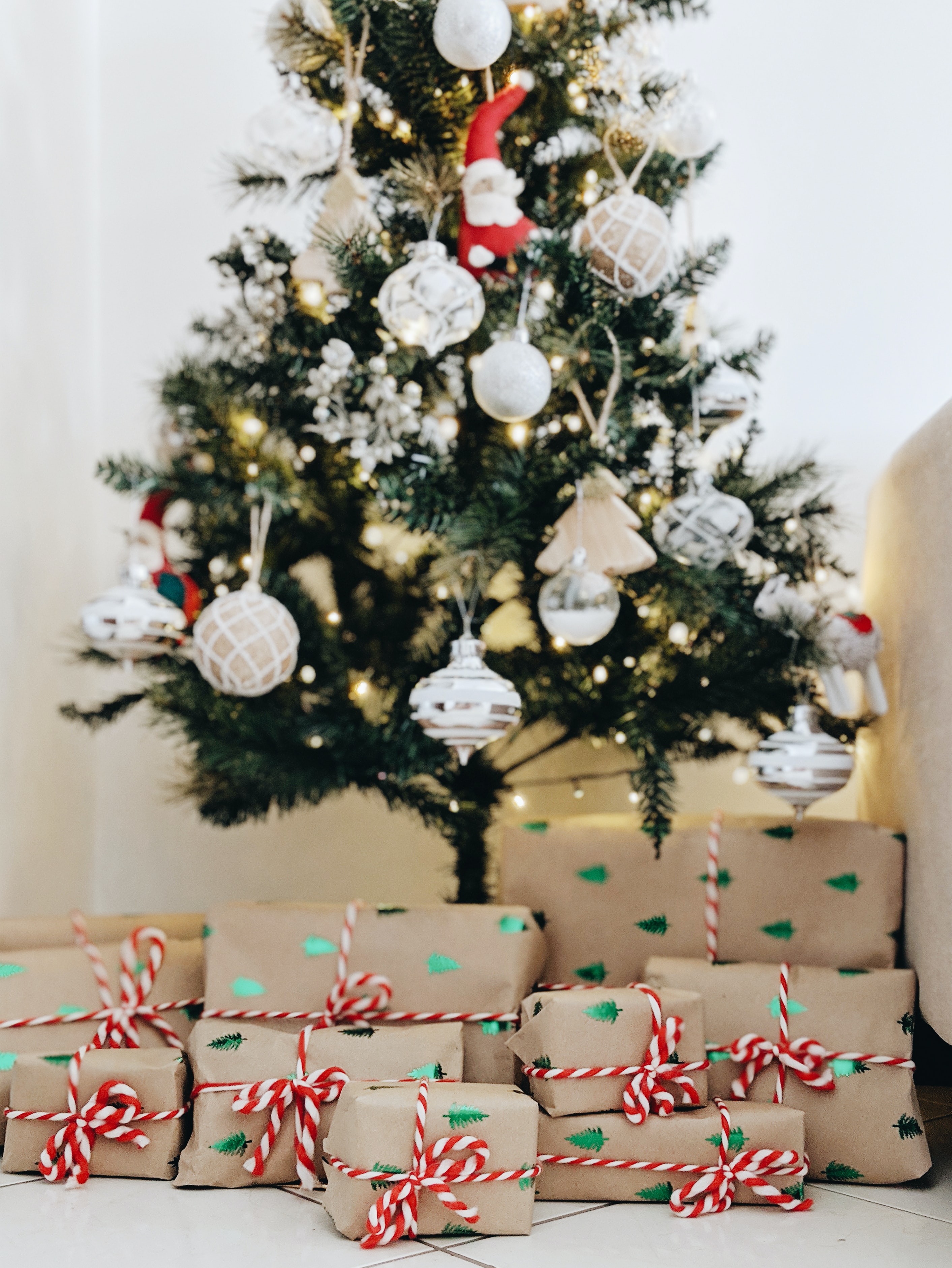 Gift Wrapping Idea #2: Brown Craft Paper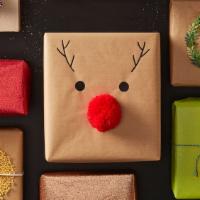 When I was young, the nuns at school made us wrap our books in brown paper (These wrappers were usually made from paper grocery bags). Other books were wrapped in brown paper because people didn't want someone to know what they were reading. It was probably something scandalous or risque like Helen Gurley Brown's "Sex and the Single Girl." Today, brown craft paper (available at your local Dollar Store) is used in all kinds of new and fun ways, and gift wrapping is paramount among them. Brown wrap is easy to work with, inexpensive, as I mentioned, and gives you a blank canvas that allows your embellishments to really stand out. You can rubber stamp green trees, like the example above, or make a reindeer, using a Sharpie, some hot glue and a pompom.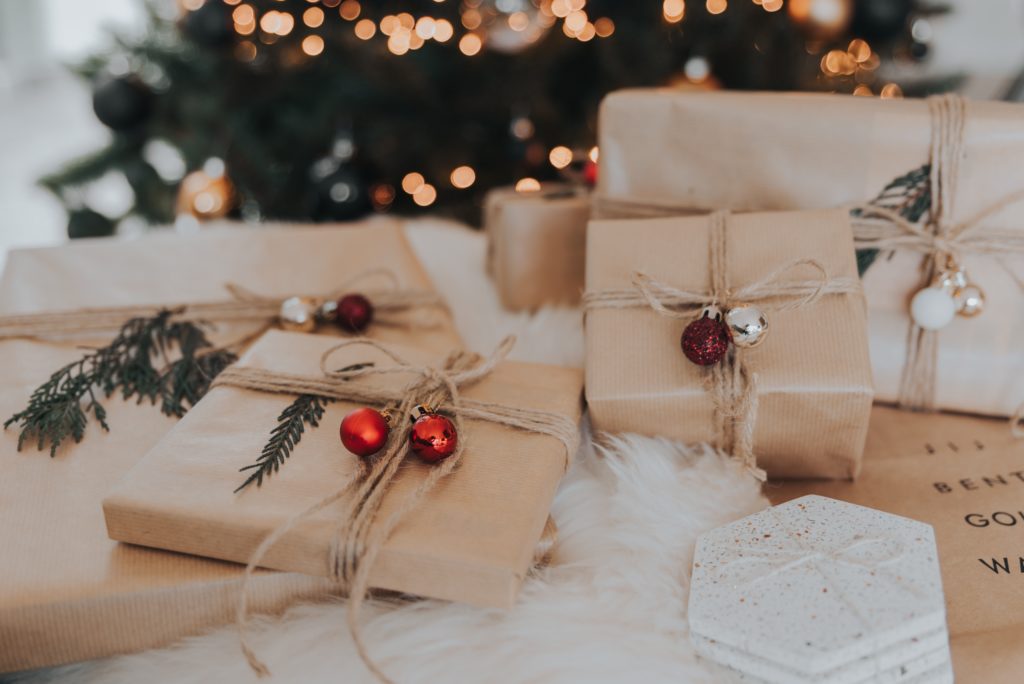 Gift Wrapping Idea #3 Dollar and Thrift Store Ornaments and Candy
This blog is not meant to be a great, big, giant ad for the Dollar Store, but you can get a lot of mileage in making your wrapping beautiful at these establishments. I took Bruce to the Dollar Store in Narragansett when we first started dating (he'd never been to one). He kept asking, "but, is this a dollar too?" Yup. All of it. It was hysterical. He was like a kid in a candy store. Our Dollar Store is now $1.25 per item, due to inflation, but it's still a bargain.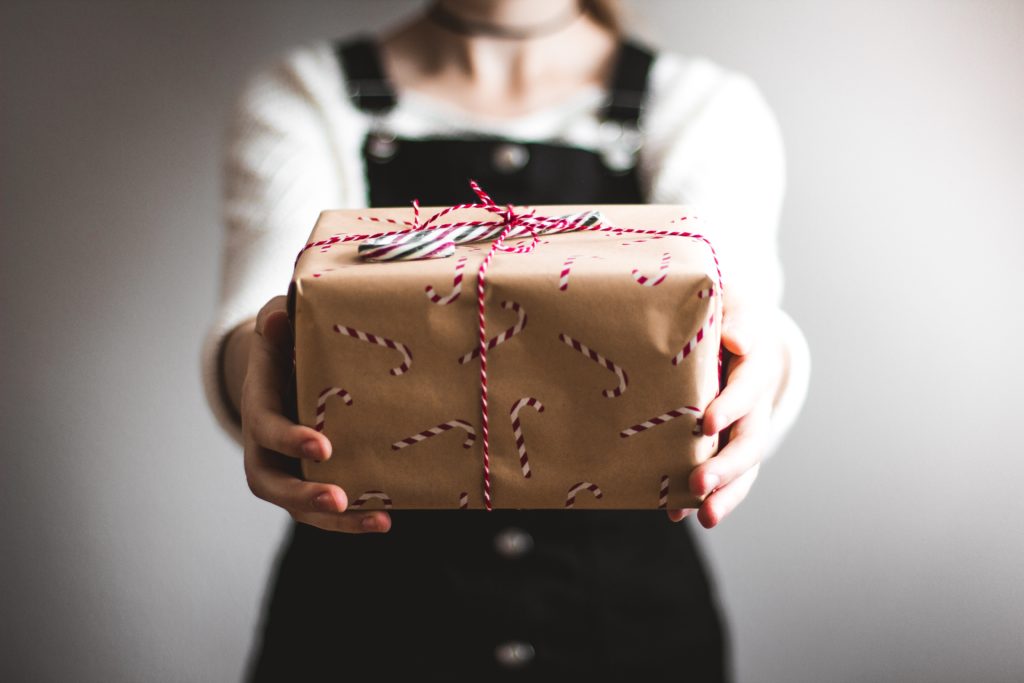 At this time of year, Dollar Stores have great ornaments, like snowflakes (3/$1.25) and metal bells (6/$1.25). You can add these ornaments to your packages. T and really spruce them up. The other great spot for inexpensive ornaments is The Christmas Tree Shop. If you have one in your area, you're in luck! They have lots of ornaments for under $3. I scored several beach-themed ones last year that made my recipients very happy. This year I am planning to do the same.
Thrift stores and consignment shops are another great source for ornaments to adorn your packages. You won't pay regular retail and the choices won't look like everyone else's.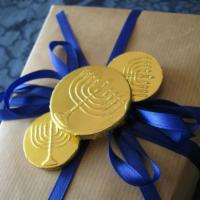 The other inexpensive thing that really brightens your boxes is seasonal candy. Be it Hanukkah gelt or candy canes, these sweet treats bring joy to the receiver and are an extra little gift as well.
Gift Wrapping Idea #4:Scrapbook Paper and Non-Traditional Ribbon
I was very heavily into scrapbooking for about four weeks once. Standing in the scrapbook aisles at Michael's sent a chill down my spine. All those great projects I would make! I bought paper, tags, stickers and trinkets. Then the interest died. I still have ALL that stuff though. Guess what? It can now be put to use. Scrapbooking paper is great for embellishing gifts (like the folded Christmas tree below). It is also awesome for creating beautiful tags from plain, old oak tag (or old manilla folders).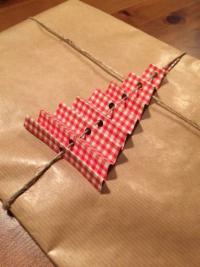 Another easy trick is to use non-traditional ribbon to wrap your gifts. You can try: butcher's twine/kitchen string, raffia, basic undyed twine, grosgrain fabric ribbon or yarn. These options are unexpected and give your gifts a thoughtful and fun look.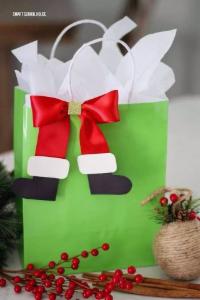 Gift Bags…If You Must
My friend, who I will not name here but she knows I'm talking about her, "does not wrap"… her words, not mine. She has never met a gift bag she doesn't like and will even throw a gift card in one, with a little tissue, and call it a day. I know that there are a lot of you out there that feel the same way. You know who you are – if you've ever said "the gift bag is the best invention of all time… even better than fire!"… then I'm talking to you. Hey, I'm not saying that you have to give up the bag. You can still use it this year and also make it special. Add that silver-star ornament, candy cane, or evergreen snip to the bag and maybe make a scrapbook paper tag? C'mon. You can do it. You know you can. I believe in you! Embrace your inner crafter and make the end of this year a little brighter!
A Couple of Great Wrapping Videos To Share
These two quick videos are full of additional information on wrapping. Check them out by clicking on the links: Wrapping Hacks and How To Tie A Perfect Bow.
And Now For A Little Music Before We Go…
"For it is in giving that we receive."

–St. Francis of Assisi