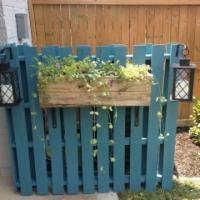 "Camouflage is the most interesting of all the arts."
What's Camouflage Got To Do With It?
To camouflage, according to Webster, is "to facilitate, hide or disguise the presence of (a person, animal, or object)." Any one of us who has ever felt the least bit fat has often employed the tricks of camouflage when dressing. But you may be asking yourself: what the heck does camouflage have to do with my home, Marianne? Well, just think for a minute about the unsightly but necessary things that every home has: garbage cans, heating and cooling units, hoses, utilities… and then you'll get where I'm going with this… read on for some great tips for using camouflage around your home…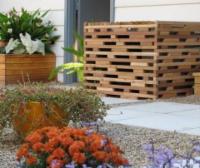 The Prime Offender -The Garbage Cans
You need them for sure but you probably don't want to see them, and you most certainly don't want to smell them. But what can you do about them?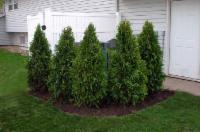 With just a bit of fencing, or even some old pallets, you can make an attractive enclosure for these nasties. Pinterest is loaded with creative ideas that even the least handy of us can manage. There are also some pre-made products for this purpose. Then you can make these enclosures into a feature by simply adding planter boxes on or near them or putting potted plants in front of them.
You can also go the natural route to hide the cans and plant evergreens in an "L" shape to act as an enclosure.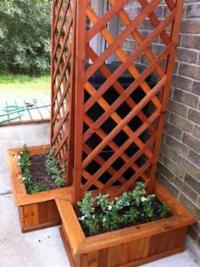 And Then There's That Ugly A/C Unit!
The same rules apply for A/C and heating units. You can build something simple with fencing, pavers or pallets. Click HERE for some ideas for hiding these . Make sure you check with the manufacturer on these, however, because some units should not be completely covered and you will need to leave the top open.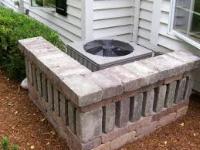 And What About Those Ugly, Gray Utilities?
As you can see from the picture below, simply painting these pipes and boxes in a color close to the color of your siding can make all the difference! The paint camouflages the offenders, and nearly makes the disappear.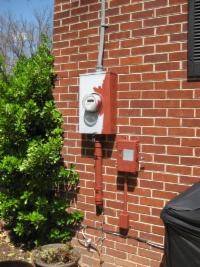 Another trick with these is to build a mounted box around them. Much like what you can do with garbage cans and A/C units, you can use fencing or pallets to create these covers – then enhance them with window boxes – and voila!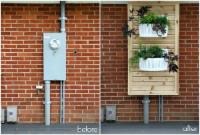 And Then There Are Those Old, Outdated Garage Doors
Garage doors are expensive. I can attest to this after having to replace one of them when my dog ate through it, when the kids accidentally left him in the garage one day while we were out! But rather than replacing them, especially if they are still functioning properly, you can use the art of camouflage to make them look oh-so-much better. In the picture below, the homeowner did NOT add windows to the doors – they added… wait for it,… window stickers! Yup! It's a thing. And you can order them online. And unless you are right on top of these stickers, you can not tell the difference. Instant and easy improvement to your eyesore. The hardware (not stickers) can be also be added to really up your game.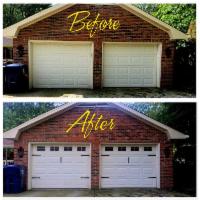 And Let's Not Forget The Hose: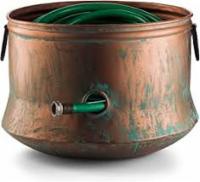 Your plants are dead without it, but it often looks pretty untidy on the side of your house, piled up on the ground. They sell those wall mounted racks, but many of them aren't much better. For this one you can go DIY by drilling a hole in a metal planter (make sure you really sand it, though, or you'll have a holey hose for sure). There are also lots of products on the market for keeping the hose in order and out of site. Some of them are dual-purpose -acting as both a planter and a hose=keeper. This is one to have fun with.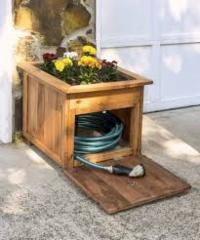 What Else Is Good About Camouflage?
Camouflage is the art of deception, but it can also be the art of… well… art. By using camouflage around your house, you make your house prettier… and who doesn't want that?
"Happiness, you'll find, is the greatest magnet in the world." Patti Page
Here's hoping that your camouflage brings you happiness.
Click on the Link Below, Post A Comment To My Blog and Be Entered to Win a $25 Starbucks Gift Certificate!

Visit my store's website: