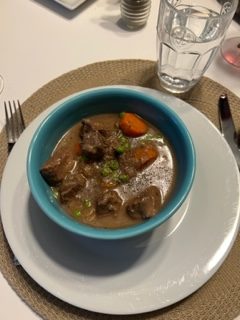 Best Beef Stew Recipe: It's been unseasonably cold in my neck of the woods the last few weeks, so the other day, when I should be making lovely classics like Spring, Vegetable Soup or Asparagus Farro Salad with Lemon Meringue Pie for dessert , I found myself creating a good, old-fashioned beef stew instead. This recipe is one that I have adapted over the years and was inspired by a recipe from The Brown-Eyed Baker. It's a great weekend meal, as it does cook in the oven for awhile. You will need a Dutch Oven or other large pot that can go from cook-top to oven. It's a pretty easy recipe though and it truly is the best beef stew ever. Enjoy!
Ingredients: Best Beef Stew Recipe
3 pounds (3 lbs.) beef chuck roast cut into cubes. (I usually buy a chuck roast and cut my own, as size of stew cube packages are usually too small, and the cost savings makes this step well worth it).
Salt and pepper to season beef
3 tablespoons canola oil
1 1/2 medium onions, chopped (about 1 3/4 cups)
4 cloves garlic, minced (You can used jarred garlic, if necessary).
1 tablespoon tomato paste (You can use 2 Tablespoons ketchup in a pinch).
¼ cup flour
1 cup red wine (I have used Bordeaux and Cabernet with equally good results).
3 cups chicken broth (Yes, you read that right. Chicken stock is more consistent than beef stock and you will be surprised but you will not taste chicken at all in this recipe. Making it from bouillon is totally fine).
2 bay leaves
1 teaspoon dried thyme
6 small red potatoes, quartered
4 large carrots, peeled and sliced 1/4-inch thick
8oz shitake mushroom caps, cleaned and quartered (worth buying a mushroom brush, if you don't already have one, as washing mushrooms leaves them soggy and less-flavorful).
1 cup frozen peas, thawed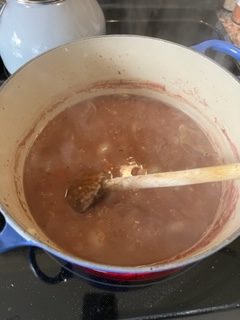 Instructions: Best Beef Stew Recipe
Preheat oven to 325 degrees. Cube beef and season with salt and pepper.
Heat the oil in your Dutch oven over medium-high heat, add onions and cook, stirring occasionally, until tender and golden brown, about 8 minutes.
Reduce heat to medium, add the garlic and tomato paste (or ketchup) and cook until fragrant, about 1 minute. Stir in the flour and cook until lightly colored and no raw flour remains, about 1 minute.
Add the wine, scraping up any browned bits stuck to the bottom of the pan. Add the chicken broth, bay leaves, and thyme. Bring to a simmer and cook until slightly thickened, about 3 minutes. Stir in the beef and return to a simmer.
Transfer the pot to the oven and cook, uncovered for 90 minutes, stirring halfway through.
Remove the pot from the oven, stir in the carrots, potatoes and mushrooms, put back in the oven and continue cooking until the beef and vegetables are tender, about 1 hour to 1 hour and 15 minutes, stirring halfway through cooking.
A Final Thought…
I hope that you enjoy this recipe as much as we do. A small part of me hopes that the weather turns and neither you nor I will make it until the fall returns, but either way… here's to springtime in New England!