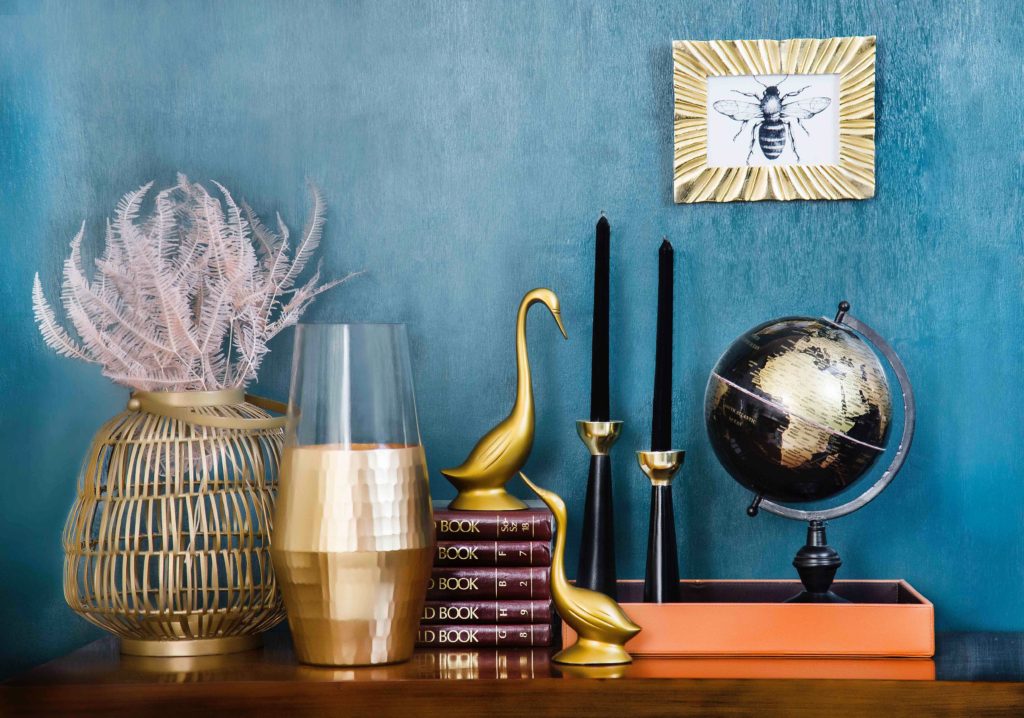 Whether you are accessorizing your dining room table, your mantel, your sideboard or the top of a console table, odd numbers of items are always best. Arrangements in odd number configurations are more pleasing to the eye and allow you to vary heights in an interesting way. It's why a single item works in the middle of your dining table and why a pair of candlesticks and a center item also work, but why the sticks alone seem to be missing something… Read on for some easy tips…
For Dining Tables:
Most people think in terms of one's and three's when it comes to a dinning room table -one item, like a vase of fresh flowers or a bowl of fruit or shells is attractive and can be whisked away if more of the surface is needed when you want to actually eat at your table. Three's are good when you want to flank that bowl or vase with a pair of candles. With a dining table whatever you use has to be attractive from all sides, just by the very nature of the table. But how about some things more out of the box? To punch up your decor' think about:
For a Single Object:
A Large, Sculptural Item like a lantern or a ship's model or a large holiday-themed item (like a bunny for Easter)
A Basket with an interesting collection of shells, decorative ornaments, fruit, etc.
A Large, Potted Plant
A Large Bottle with interesting leaves, feathers or branches
A Tray used as your single object and accessorized with an odd number of interesting objects, much like you would on a coffee table (see my past blog: Curating Your Coffee Table)
A Cake Stand used in a similar way
For a Grouping of Three or Five:
Three/Five of the Same "Thing," like lanterns or potted plants – keep the exterior material similar
Three/Five Candlesticks of Varying Heights but made of similar materials like brass, glass or pottery
Three/Five Mason Jar or Ironstone Pitcher Flower Arrangements
Three/Five Bottles of varying heights -preferably in interesting colors
For Mantels:
Odd numbers of items on either side of your mantel (even though together they, ironically, add up to even numbers) tend to work best. If you have artwork above the mantel, a single item under it can work, in addition to the accessories flanking the sides.
Often people think candlesticks when it comes to the mantel, but you can start there and you can add the following, in pairs, one on each side, but keeping the collection of things to three, five or even seven items per side. Conversely you can add three or five non-paired items to each side but keep the number the same (e.g. three things left/three things right) :
For a Grouping of Three, Five, Even Seven:
Large Vases (with or without flowers) or Ginger Jars
Interesting Sculptural Items (like a doll's chair, a metal anchor, a ship's model, an obelisk or other geometric) or an Actual Sculpture, like a bust
Interesting Platters on stands
Lanterns with battery-powered candles or real candles
Votives in mason jars
Extra Large Shells or Pieces of Coral
A Stack of Books in colors that coordinate with your room
Framed Family Photos in coordinating, but not matching, frames
Small Framed Artwork on an easel
For Console Tables and Sideboards:
Often, with a sideboard or console table, you will get odd numbers if you simply put one lamp on either end and put one thing in the middle. This is a perfectly serviceable form of accessorizing, but not terribly interesting. So for a sideboard or console, as with a mantel, try pairs of things on each side in odd numbers for each side, or mix it up further by using just one lamp and focus all the accessorizing on one side, keeping an odd number of items. Try things like:
For the One Center Item, Flanked by Lamps:
A Sculptural Item like a lantern or a ship's model or a large holiday-themed item (like a witch for Halloween)
An Art Glass Bowl empty or filled
An Antique Basket filled with cloth napkins for a sideboard, filled with potted plants for a console
A Framed Piece of Art on a stand
For a One-Sided Arrangement:
A Single Plate or Platter on a stand
A Carved Box to hide away keys or other essentials
A Stack of Books in colors that coordinate with the decor'
A Potted Orchid – adds height and easily fits at the back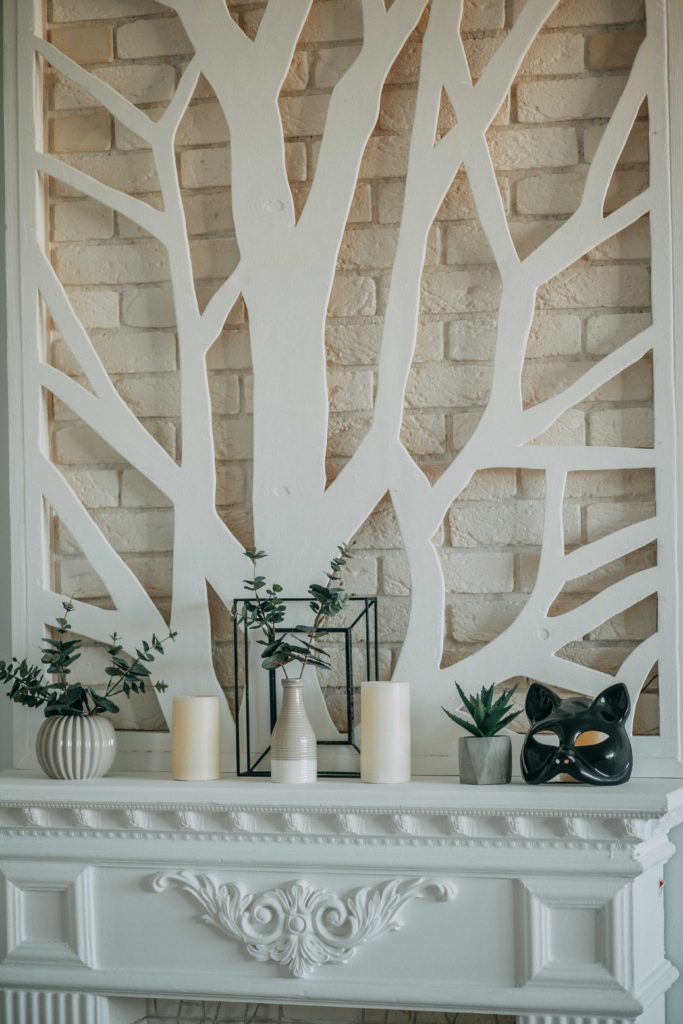 So have some fun with odd numbers in you "surface-scapping." Always remember though that the most important thing about your decor' is that it's yours – so make it so and make it sparkle in the process.
Have Fun Out There, My Friends.