Creating an Accent Wall For Fun and Profit…
And now for a little music in the subject…
"Why fit in when you were born to stand out?"

-Dr. Suess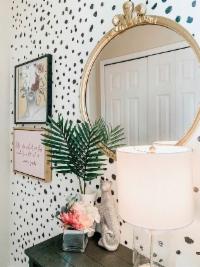 Accent Wall….Easy To Do (Sometimes) For Big Impact…
Walls… most rooms have four of them (if you don't count the ceiling)… and nine times out of ten they are all the same color. But what about that tenth time… that can be the room that really stands out. And what is great about that is that it's only one wall that you need to commit to. One wall to highlight … only one to paint, or paper or embellish. The accent wall can act like a great piece of art in your room because it will create a focal pint. It can also be used to define a particular part of a larger space space in an open floor plan. In a smaller space it can separate functionality. As Martha would say, an accent wall is "a good thing," so read on for some more great tips…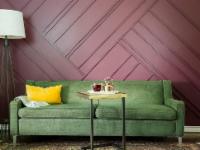 Where Oh Where Can May Accent Wall Be?
Accent walls can be in almost any room in your house, but there are a few spaces where they make the most sense.:
In The Entryway: Talk about a great way to make a first impression. An entryway accent wall can set the mood for your home. It can showcase your style.
Behind The Bed: The bed is obviously the focal point in the bedroom, so an accent wall behind it helps to anchor it and draw the eye.
Behind or Across From The Sofa: Because the couch and the media console are both large pieces, they can seem to float in the space, even when they are up against the wall. An accent behind them helps to better define this space.
In A long Space: Sometimes an accent wall can help make an awkward space seem less so. This is really evident in the long space. Paint or otherwise accent one or both of the short walls and this will bring coziness into the room.
In A Large Space: Much like the long space, an accent wall in a large space can bring coziness. And don't forget, the ceiling is a 5th wall, and it can be your accent too.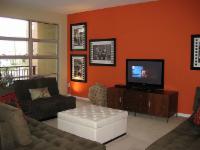 Come On Joanna… It's Just Shiplap…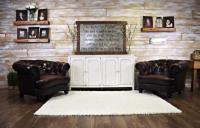 Don't get me wrong, I love Joanna Gaines. I've even made a pilgrimage to her Magnolia headquarters at The Silos in Waco, TX , but man can that woman over-do an accent wall. For those of you who aren't avid followers, I'm talking about shiplap. Shiplap is a kind of wooden board that's often used for constructing sheds, barns, and other rustic buildings. Traditional shiplap has a rabbet (or groove) cut into the top and bottom, which allows the pieces to fit together snugly, forming a tight seal. In her show, Fixer Upper ,on HGTV, Joanna often pulls down plaster, whilst renovating, to expose this wood and create an accent wall. It's a great look that can work well in a variety of homes. You can create this yourself (in many different patterns) with wood available at most home improvements stores like Lowe's and Home Depot. The boards are attached (to the studs) with finishing nails and/or construction adhesive. This will require a chop saw, however, so , when in doubt, consult a professional for this type of accent wall.
Just Paint Can Be Enough…
By far, the easiest type of accent wall is simply painted. You only have to tape off the corners and ceiling, throw down a drop cloth, and roll – literally. Choosing the color to paint it , however, is where all the magic happens. Best rules of thumb – chose a color several shades darker than the other three walls but in the same color family. Think about paint chip cards for this one, and go down the card several shades. Benjamin Moore and Sherwin Williams have great color help on their websites. The other option is an opposite, complimentary color. Look at the color wheel for help with your opposites, and then make sure to repeat the color in some of the accents.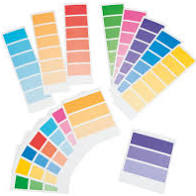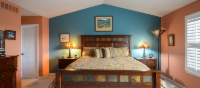 And Then There's Wallpaper…
Wallpaper is another great way to create an accent wall. And because you are only doing one wall, the cost for this treatment doesn't have to break the bank. What works best with this type of accent wall are geometric patterns and florals. When using either, be sure to align the pattern to end as close to the edge of the wall as possible. This will make the look more impactful. This type of accent wall also works well in a bathroom – often behind the toilet, which helps to define and pretty-up that space.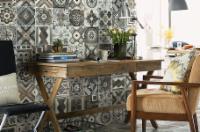 What Else Is Good About Creating An Accent Wall?
An accent wall is a small commitment of space that can great visual impact. It's a fun and creative way to show your personal style. And, as always, making home a haven – a pretty place to lay your head – is always a good thing.
"Style is something each of us already has, all we need to do is find it."

Diane von Furstenberg
Click on the Link Below, Post A Comment To My Blog and Be Entered to Win a $25 Starbucks Gift Certificate!

Visit my store's website: